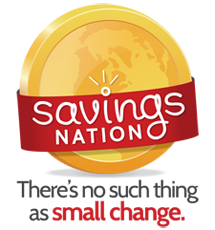 Next Monday, May 21st, 2012 is my first Savings Nation workshop open to the public! I'm so excited to be teaming together with Savings.com to bring these workshops to the DC metro area. give you the tools, information and community support you need to save up to 50% on your weekly groceries. For the average family that equals an extra $200 a month in your pocket!  With Savings Nation, leading a better life on a budget is attainable because we know that 'There's No Such Thing as Small Change!'
What: Savings Nation – Grocery Savings Workshop in Burke, VA
Date: Monday, May 21st, 2012 
Time: 7:00 pm – 9:00 pm
Location: Burke Community Church (classroom #118), 9900 Old Keene Mill Rd, Burke, VA 22015
In this 2-hour workshop you'll learn:
Realistic Couponing
Strategic Grocery Shopping
Meal Planning Made Simple
Online Tools to Simplify Your Savings
This is a fun and interactive class that is great for beginning couponers as well as a place for seasoned bargain hunters to congregate and share tips. You'll receive a workbook to take home, as well as coupons, and get the chance to connect with like-minded savers.
The registration fee for this workshop is only $5 and you can register online here.
If you have a friend or relative in another part of the country who you think might be interested in attending a Savings Nations class, check out the main Savings Nation page here to find classes offered in other communities. The goal of these workshops is to teach you practical money-saving strategies, and inspire and encourage you to reach your own personal finance goals, one grocery shopping trip at a time.
If you don't mind, please fill out this quick survey, which will help me determine the location of future classes and direction/interest of these classes. Thanks and I hope to see you next week at my Savings Nation Workshop in Burke!