It's summer and that means many families are sending their kids off to camp! If you're searching for a camp, I'm excited to share a great online resource, created by local mom Brooke Salkoff (who also happens to be a former NBC News Correspondent). It's a new online tool that will help you find the perfect camp for your kids and simplify the planning process!
CampEasy.com is a way for parents to search and discover camps for their kids.  Consider it the Expedia.com for camps

It's a free online resource to help connect parents and camps. It's a neat platform where parents discover and plan camps for their kids in one place.
Parents can search for camps for up to 4 kids at the same time based on age, location, sleep away or day camp, and week.  Then once you get your search results you have the option to filter by other factors including hours of operation, special interests and cost (yes, all you frugalistas like me will appreciate this feature!). For a little more info on CampEasy, check out this feature on ABC WJLA7 earlier this year.
*UPDATE on the $10 Amazon Gift Card Promo* I've been in touch with CampEasy and due to the tremendous response, their website has been crashing and experiencing slow loading time. Unfortunately there have also been some questionable reviews that appear to not be authentic and from users creating multiple accounts. To ensure the orderly administration of their giveaway to credible users, they are now limiting the promotion reward to the first 100 legitimate reviews per day. They will start accepting reviews for the promotion at 12:00 Noon EST time through the end of the promotion on Monday July 23, 2012. I've also been assured that all legitimate reviews received on Monday July 16 and Tuesday July 17 will receive the $10 Amazon Gift Card, as long as they are in accordance with the rules for this promotion.
This week, Camp Easy has an awesome offer for parents: Submit a camp review and get a $10 Amazon Gift Card* (limited to the 1st 100 each day starting at noon)! Please note, this offer is for parents of campers, for real camp reviews (do not create a fake review!). This offer is valid only from July 16-23, 2012 to US & Canadian families, limit one gift card per family. Since Camp Easy is trying to compile authentic reviews from campers and their parents, they're thanking you with a $10 gift card, no strings attached! They know your reviews will help millions more parents find and plan camps for their kids, and will help great camps show off their programs! So be sure to check out their blog post on the $10 Amazon Gift Card offer, so you can sign up, find out all the details, and take advantage of this great offer. The first 100 who submit an authentic camp review each day this week will get a $10 gift card, so be sure to sign up and get your review submissions in soon (and all legitimate reviews received on Mon. July 16th & Tues. July 17th – not just the first 100)!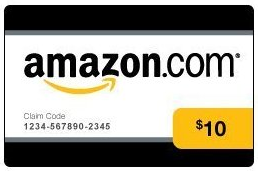 Each week this summer, Camp Easy will be holding different giveaways. Parents can enter by reviewing their kids camp on CampEasy. Each review=one entry. The giveaways are open to parents who have created a login on CampEasy, and you can find out more about their weekly contests by connecting with them on their Facebook page  and on Twitter @CampEasy.
I'm interested: Do you send your kids off to camp? Have you found the planning process difficult? Please leave a comment and let me know!