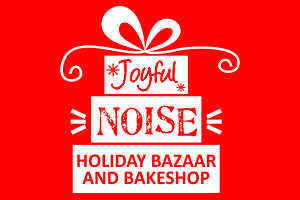 This Saturday,  November 17th, 2012 is the annual Joyful Noise holiday bazaar and bakeshop to benefit the Hammond Foundation.
At the bazaar you'll find high-end and unique gifts to start your holiday shopping, plus there will be a cupcake area for kids to decorate, as well as face painters and entertainment. This should be a fun, family friendly event to raise money for a great cause, plus it's free admission!
Joyful Noise Holiday Bazaar & Bakeshop
Saturday November 17th, 2012 from 9 am-3 pm at Dominion H.S. (21326 Augusta Drive, Sterling, VA 20164)
3rd Annual bazaar with all proceeds going to the Scholarship Fund
Free entry
Family friendly
Local vendors
Information on The Hammond Foundation:
In December 2002, Verle Hammond (Retired Army Colonel, Vietnam Veteran, and Entrepreneur) and his wife, Eleanor Hammond (a retired Educator), founded The Verle and Eleanor Hammond Foundation, a 501 (c) (3) non-profit organization. The Hammond's feel that while they have been blessed with success in the for-profit world, that they have been given the opportunity to give back to the community and share the fruits of their labor by starting a foundation. The entire Hammond Family—children and grandchildren included—works together to make it a success.
Their Mission:
The mission of The Hammond Foundation is to enable and inspire youth who are not given the opportunity to realize their full potential, by increasing their visibility and self awareness. Their goal is to work with them, their families, schools and communities to develop the competence and confidence they need to lead successful lives. They believe that children will always reach their maximum potential when they are encouraged to do so.<
What they have accomplished:
Their programs are aimed primarily at supporting students in the 6th through 12th grades. They have administered and supported a number of school- and family-based programs, including: Scholarship Program: In 2003, they established an annual scholarship program, "MindWide Open College Scholarship" program. Since 2003 they have awarded 68 scholarships in Loudon County and St. Johns County (Florida) and they want to award more in 2013.
To learn more about the Hammond Foundation be sure to check out their website and visit the Joyful Noise Bazaar to enjoy a free, family-friendly event plus get a head start on your holiday shopping!