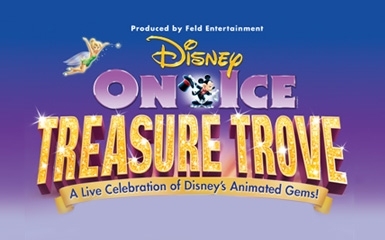 Coming up this Tuesday, January 8, 2013, the Verizon Center box office in DC is selling $1 tickets to Disney On Ice Treasure Trove! This is limited to in-person purchases at the Verizon Center's box office (601 F St NW, Washington, DC 20004) starting at 10 am, and applies to the first 1,000 tickets sold. Performances will run Feb. 13-18, 2013 and feature Disney's own animated treasures in this new ice skating spectacular: Alice In Wonderland, Peter Pan, the Lion King, and all the Disney princesses from Snow White to Rapunzel.
*UPDATE* I have been told that there is a limit of up to 6 $1 tickets each person can purchase this Tuesday. Also, apparently the $1 ticket offers are limited to certain seats/sections, but I have not been able to confirm exactly which sections yet with Disney On Ice.
This is an incredible deal! Regular ticket prices for this Disney On Ice show start at $20 and go all the way up to $80 for front row seats. One dollar tickets are a significant savings, particularly for families and Disney fans!
Performance dates for Disney On Ice Treasure Trove at the Verizon Center are:
Wednesday, February 13th @ 7:30 pm
Thursday, February 14th @ 10:30 am & 7:30 pm
Friday, February 15th @ 7:30 pm
Saturday, February 16th @ 10:30 am, 2:30 pm & 6:30 pm
Sunday, February 17th @ 12:30 pm & 4:30 pm
Monday, February 18th @ 12:30 pm
If you get in line this Tuesday for your $1 ticket and don't make the first 1,000, you'll be offered a $5 savings on tickets to any performance.
Please note the $1 ticket deal is one-day only, in person at the Verizon Center Box Office, while supplies last, with all Disney On Ice ticket sales ending at 5:30 pm that day.
Update: If you missed out on the $1 ticket deal, regular tickets start as low as $20 per person. You can purchase Disney One Ice tickets at all Ticketmaster outlets via charge by phone at 1-800-745-3000; via Ticketmaster online; and at the Verizon Center box office. Verizon Center Ticket Prices are currently: $80.00 (FRONT ROW) / $55.00 (VIP) / $30.00 / $20.00