Have you been considering Language Stars DC foreign language classes for your child, but wanted to learn more about their company or perhaps you've been waiting for a coupon or discount offer? Then this blog post is just for you – plus you'll get the chance to win an iPad mini (woo-hoo)!
As a former foreign language major (my degree was in German language & literature), I am thrilled to see the love for learning another language fostered in young children! Do you remember being required to take a foreign language class in high school and how hard it was to nail down all the grammar rules and pronunciation? Studies have shown that the younger you are, the easier it is for a person to learn and master a foreign language!
That's why I'm excited to share Language Stars plus a special discount offer available right now! Language Stars was founded by Leslie Lancry who has a true passion for spreading multilingual education to as many American children as possible. She herself is married to a Frenchman and has two bilingual children. She saw a trend of American schools starting language instruction after adolescence, just after the stage when the brain is hard-wired to learn language easily. Through her research, she came to value the "Window of Opportunity" for young children to learn a foreign language easily, and she committed herself to fostering a future generation of multilingual Americans by focusing on young children through fun classes and programs.
Language Stars offers play-based, full-immersion foreign language classes that open children's minds to new worlds. Toddlers, pre-schoolers and K-5th graders benefit from an early start, during a unique window of opportunity when their young brains absorb the magic of another language and culture easily and rapidly. Centers are located here in the Washington, DC metro area & Chicago metro area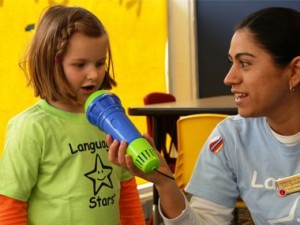 From January 14-27, 2013 they will be hosting Open House Weeks so you can experience Language Stars firsthand and save! You'll have the chance to:
Tour your local Language Stars center
Meet their international teaching team
Learn about the Window of Opportunity and why NOW is the best time for your child to learn a foreign language
Receive a special Open House gift to take home for you and your child
Enter their Open House Weeks Giveaway for a chance to win a brand new iPad mini (keep reading to find out more about this!)
They are offering a special Open House Discount! Enroll during their Open House Weeks (Jan. 14-27) and receive $100 OFF 
your tuition (valid for new families only)
Be sure to reserve your spot for Open House Weeks today! Fill out the form at http://www.languagestars.com/openhouse2013 or call 866-55-STARS.
Already enrolled in Language Stars? They'd like to reward you with $100 OFF your tuition for every new family you refer who enrolls through January 27, 2013.
As another fun part of their Open House Weeks, Language Stars will be giving away 1 iPad mini to one lucky person here in the DC Metro Area!
To enter, simply use the Rafflecopter entry form below:
a Rafflecopter giveaway
Be sure to connect with Language Stars DC on Facebook and on Twitter too!
Disclaimer: This is a sponsored post from Language Stars. The opinions shared in this post are my own, and I love to share great deals and fun giveaways for my readers! To read my formal disclosure policy, please click here.