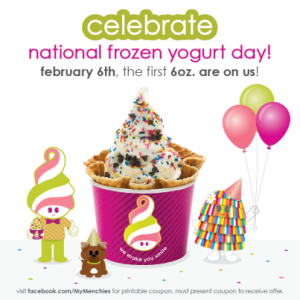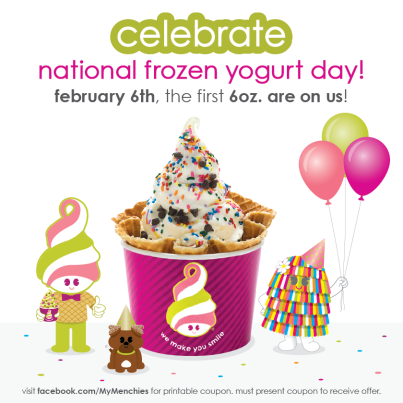 Tomorrow, Wed. February 6, 2013 is National Yogurt Day! Menchie's is celebrating by offering their Facebook fans 6 oz of free frozen yogurt!
All you need to do is go "like" Menchie's on Facebook, and then you'll get access to the printable coupon on the top "Get Free Froyo!" tab, which you can bring in to your local Menchie's store to get the first 6 oz of frozen yogurt free!
I'm happy to share, here Northern VA and Maryland there are a few locations!
Menchie's Pinecrest Plaza in Alexandria, VA (6550 Little River Tpk Suite F, Alexandria, VA 22312)
Menchie's Penrose Square in Arlington, VA (2405 Columbia Pke Suite #E04, Arlington, VA 22204)
Menchie's Annapolis Towne Center in Annapolis, MD (1905 Towne Centre Blvd Suite 130, Annapolis, MD 21401)
Menchie's Rock Creek Village in Rockville, MD (5550 Norbeck Road Space 10, Rockville, MD 20853)
Menchie's Lakeshore Plaza in Pasadena, MD (4135 Mountain Road, Pasadena, MD 21122)
Menchie's Largo Plaza in Largo, MD (10418 Campus Way South, Largo, MD 20774)
Enjoy your freebie, and by the way, I've heard that a few of my readers love the Menchie's in Alexandria, so I'm hoping to make it by to taste their frozen yogurt too!