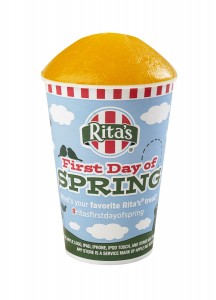 It's that time of year again! Rita's Free Italian Ice Day is one of my favorite freebies that occurs each year on the first day of Spring! Rita's will be giving out free Italian Ice this Wednesday, March 20, 2013 from 12pm – 9pm.
To find a Rita's near you, click here to search by zip code. There are many locations here in the DC metropolitan area, including a newer Fairfax VA store, plus multiple stores across DC, Northern VA and Maryland!
Enjoy your Italian Ice served in their limited edition First Day of Spring cup (unsure of exact size). No purchase necessary. For more information, click here.