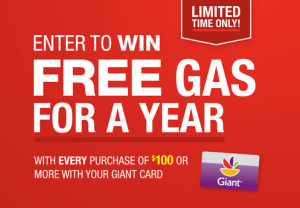 Gas prices got you grumpy? Shell gas stations and Giant grocery stores have teamed up to fill your tank for less. Plus, for two lucky customers in the DC/MD/DE, they'll fill your tank for free for one year. That's a $2,100 value!
In case you're unfamiliar with the program, here's how the Giant Gas Rewards work: Every day when you shop at Giant, you can save 10, 20, 30 cents or more per gallon at participating Shell stations when you use your Giant Card. For every eligible $1 spent at Giant, you'll earn 1 Gas Rewards point. Plus you can earn 5x Gas Rewards points when you purchase participating products (noted in the circular and on shelf tags). For every 100 Gas Rewards points redeemed at Shell, you save 10 cents per gallon, per purchase, per vehicle for up to $2.20 per gallon. The offer is valid up to 35 gallons per vehicle. You can learn more about the offering by visiting www.shell.us/giant for details.
You can track your Gas Points  by:
Looking for your Gas Rewards balance at the bottom of your receipt.
Visiting the Giant website and logging into your account (register or log-in here).
Giant is also doing a huge sweepstakes where two lucky customers will win 1 year's worth of high quality ShellNitrogen Enriched Gasolines! All you need to do is purchase $100 or more in groceries with your Giant Card in a single transaction through March 21st, and you'll automatically be entered to win. Giveaway details are here, but here's a quick overview:
Spend $100 or more in one transaction and you're automatically entered to win FREE Shell fuel for a year (a $2,100 value).
2 prizes will be drawn and the free gas for a year prize will be awarded in the form of Shell Gift Cards.
Purchases must be made between February 15 – March 21, 2013.
To enter without making a purchase, see official rules.
Residents of DC, MD & DE 18 years or older are eligible to enter (please note, Virginia is not included)
This is a great way for Giant shoppers to save at the pump! Remember only 1 week is left to be eligible for the 1-year free gas sweeps, so go get your groceries and save on gas at the same time!
Disclosure: This is a sponsored post. The opinions shared in this post are my own, and I love to share great deals, sweepstakes & practical ways to my readers can save money! To read my formal disclosure policy, please click here.