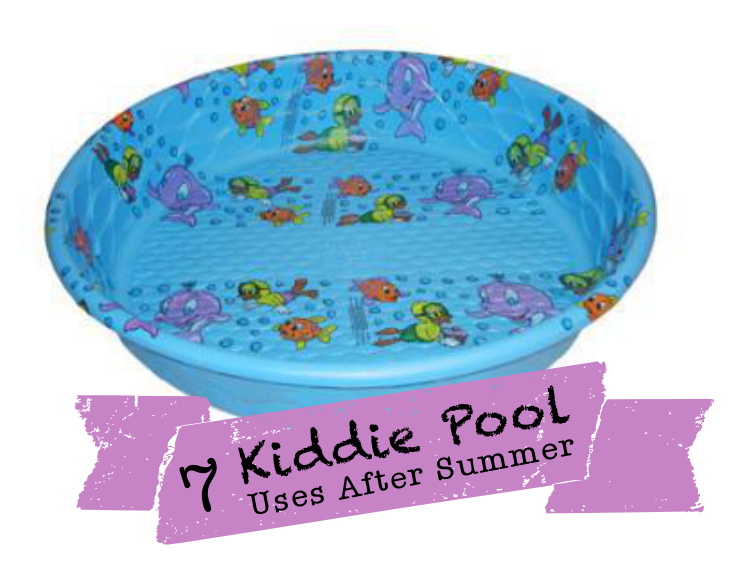 Summer is slipping away, and even though you may still be sweating under the hot August sun, fall's cool breezes will be here in just a month… and you know you'll be seeing the pumpkin & autumn-themed displays popping up in stores any day now… and the Christmas decor!

If you're like me, summer has been filled with outdoor fun and you've managed to collect a boat-load of water toys and supplies. In just a few weeks it will be time to store them away or give them to another another home. Of all the water toys, the kiddie pool is one of the bigger, more difficult items to store. But just because summer's send off is near, that doesn't mean you need to stash your plastic kiddie pool away for good until next summer.
Here are 7 fun uses for your kiddie pool, after summer has ended.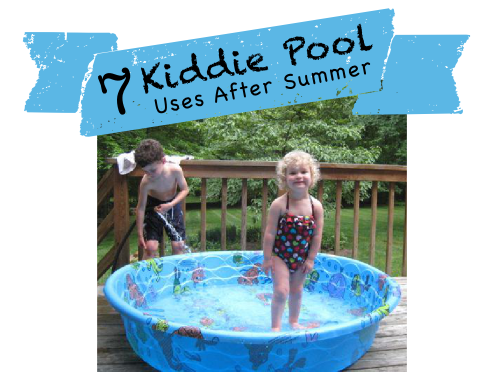 Plastic Ball Pit
Remember all the fun you had as a kid in those plastic ball pits? Create one for your kids by filling your kiddie pool with 100-200 plastic balls. You can find used ones by searching eBay and Craig's List, as well as looking at yard sales for used ones; just be sure to sanitize them! Or you may want to buy a new pack from your local toy store or purchase something like these Intex Small Fun Ballz
 from Amazon. Jamie from This Little Home of Mine has a great blog post on how she made her own plastic ball pit.
Sand Box
If you don't already have a sand box, your kiddie pool can easily serve as one. Even when it's too cold to swim, your kids will still enjoy playing in their sand box outside. Buy a few bags of sand at your local home improvement and be sure to buy a tarp or make your own cover for the sand box when it's not in use.
Treasure Hunt
Use bags of sand, rice or beans to fill up your kiddie pool and hide tiny toys, pennies, plastic rings and trinkets. Set a timer and have a group of kids each see how many "treasures" they can find within a minute. I remember doing this at a church event as a kid and it was so much fun!
Pudding Painting
Is your toddler a Picasso with pudding? Edible finger painting is a fun activity for toddlers, but it can get pretty messy. Use your kiddie pool as a "containment" area for your child's artwork. Simply lay sheets of paper in the kiddie pool and have your small child sit in it while using their fingers or a paintbrush for the pudding.
Apple Bobbing
Celebrate fall with a classic game of bobbing for apples in your kiddie pool. Fill it up with warm water and a few dozen apples, then use your  stopwatch or timer to see which child can grab the most apples in his or her mouth. I recommend limiting this activity to kids 1st grade and older, due to risk of younger kids falling face-first into the pool. Always be sure to monitor your kids when playing in/near water and be safe!
Cell Model Project
Have fun with science and create your own animal cell project using your kiddie pool and other items in your house. For example: a beach ball for the nucleus, the perimeter of the pool for the cell membrane, water for cytoplasm, pool noodles as smooth and rough endoplasm reticulum, and other parts of the animal cell. Then you can finish off your day with a cell pizza science project for dinner.
Garden Planter
Turn your kiddie pool into a raised bed garden. This is a great use for either good- or poor-condition kiddie pools with cracks. You'll need to cut drainage holes in the side of your kiddie pool, and add mulch, soil, top soil and plants. Here's a great tutorial by Wandering Chopsticks on how she created hers.
Do you have a kiddie pool? What other fun ways have you used your kiddie pool to keep your kids occupied?