Share the post "CareLuLu – A Free Online Resource for Finding Day Care & Preschool"

Are you a parent of small kids here in DC? Then you need to know about a fantastic, free online resource: CareLuLu! Created by a savvy, local mom, Jen Usmanova, and her husband Patrick Matos, CareLuLu helps busy parents connect with day care and preschool options in the greater Washington DC metropolitan area.
Since more than half of all new moms in America go back to work when their infants are younger than 1 year old, finding affordable and safe day care providers and preschool is crucial. The financial investment is also significant: currently, in 31 states and Washington DC, the cost of center-based day care is higher than the cost of a year of a public college. That's a big chunk of change! Plus, here in our Nation's Capital, our child care costs are among the highest in the nation (source).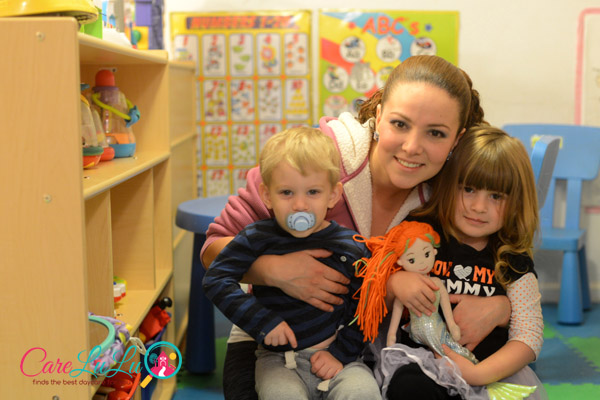 Here at Beltway Bargain Mom, you know I love to highlight free resources, as well as sites that help you save money and make wise choices with your hard-earned dollars.
CareLuLu really stands out as a unique site created by two DC parents with the goal of simplifying the preschool and day care search. After Jen Usmanova & her husband spent months researching and calling different childcare providers in the DC region with questions and gathering up facts about their offerings, they ended up visiting 16 different day cares before deciding on the best fit for their two small girls. Through their own difficulty in researching and finding the best day care for their family, the idea for CareLuLu was born: a helpful online tool to help parents save time & sanity on their child care search!
In August 2013, the launch of CareLuLu here in the DC market ushered in a new era of digitally-savvy child care. Jen had discovered that many day care providers and preschools don't provide key information on their websites, plus many do not even have an online presence. Since most parents begin their child care search online, that lead to frustrated parents! It also meant a lot of research, searching various websites, placing many phone calls, and conducting on-site visits. CareLuLu has entered the DC childcare scene as the most detail-oriented and up-to-date online tool that helps parents research child care options and find critical information like price, program, amenities and more all on one platform. Instead of spending hours and weeks scouring the web, CareLuLu is your all-in-one resource that aims to help parents navigate all the childcare options in our area. Plus you'll love the customized search function that allows you to narrow down your childcare search by over 30 different criteria, such as price (important to all you bargain moms!).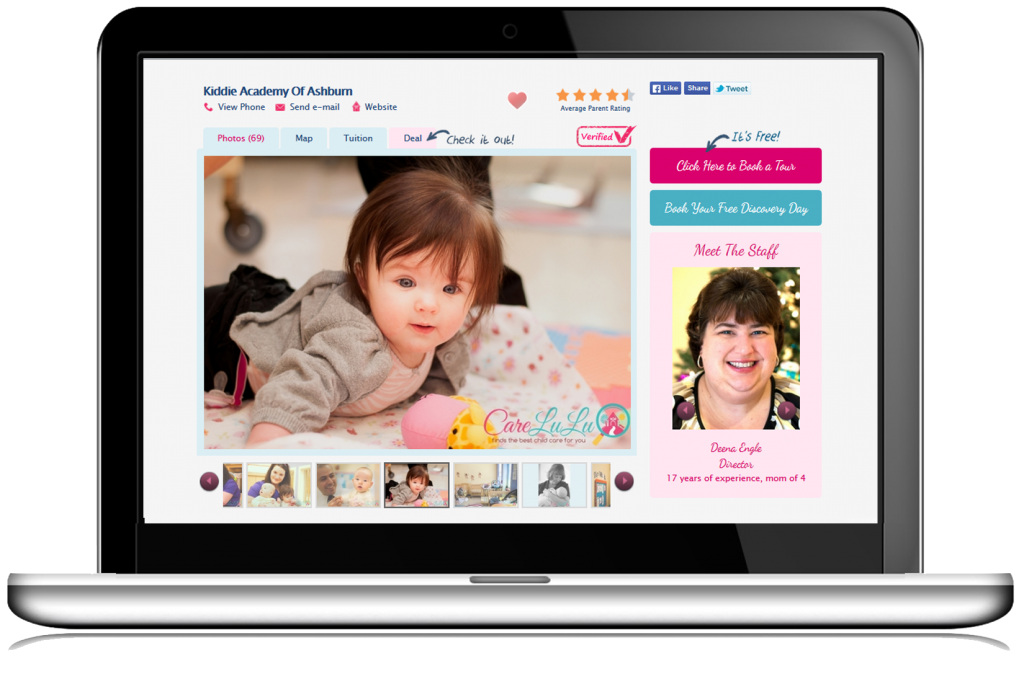 CareLuLu.com allows parents to cut down on hours of research and easily identify child care providers that match their family's specific needs, whether it's the budget, teaching philosophy or certain services they're looking for. The site has a personalized search function, photos, verified parent reviews, and allows parents to easily request information or schedule a tour. Created by parents for parents, CareLuLu helps you finds the best child care for you!
CareLuLu features:
Allows you to personalize your search for child care near you and filter by: location, price, hours of operation, services provided.
Offers verified reviews by other parents. Does your day care provider rock? Is your child's preschool unparalleled? You can share your reviews on CareLuLu and help other local parents who are searching for parent-recommended child care!
Vets providers. All providers listed on CareLuLu are licensed, and this is checked by CareLuLu (both Verified and Standard providers are all licensed in order to be listed on the site).
Shares CareLuLu team in-person visits to Verified Providers, offering real-world photos & detailed information about child care centers and preschools.
Shares critical information such as tuition and staff experience.
Does all the hard work for you, by collecting all the essential information for your childcare search in one space.
To find out more about CareLuLu, be sure to visit their site and sign up for a free account, by clicking the pink "sign up" button on the top right-hand corner of the screen. If you offer day care or work for a child care center or preschool, be sure to sign up for a free profile here.
You can also connect with CareLuLu on:
And for those of you who'd like to meet the founder of CareLuLu over coffee and connect with other parents or parents-to-be, I want to personally invite you to CareLuLu's FREE seminar this Thursday in Bethesda, Maryland. Here are the details:
Event: Free Child Care Seminar For Parents & Parents-to-be 
Date: Thurs. January 16, 2014
Time: 11:00 am
Location: La Madeleine Country French Café, 7607 Old Georgetown Rd, Bethesda, MD 20814
Register: here
Description: Picking out the perfect child care for your little one is no easy task, and you're bound to have a ton of questions about the process. Join CareLuLu child care expert, Jen Usmanova, to answer any of your questions on daycares and preschools during a seminar for parents and parents-to-be. Bring all of your questions (er, worries/hopes/fears) to the table — we'll be on hand to help with answers… and calm nerves

I am excited to see a robust, detail-oriented platform that caters to parents of small children here in the DC region, and I think local parents will definitely find CareLuLu useful as they navigate the day care and preschool scene. Parents returning to work after a new baby, families new to the DC area, as well as those looking to check out all the options for local child care can all benefit from CareLuLu. Currently CareLuLu covers the DC region adding new home-based day cares and child care centers to the website on a daily basis. They are planning to expand into additional markets this year, so they can help parents in other parts of the country, too!
Do you have your child in day care or preschool? If so, please leave a comment on this blog post and me know if you've signed up for CareLuLu, and please go on their site and leave a review for your current day care or preschool. Help spread the word about the great child care providers in our region and be sure to "brag" about them on CareLuLu!