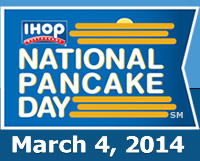 Today, Tuesday, March 4, 2014 IHOP is once again celebrating National Pancake Day with a free short stack offer! The annual National Pancake Day event is being celebrated at International House Of Pancakes (IHOP) once again! Participating IHOP restaurants will be giving out a free* short stack (3 count) of their buttermilk pancakes. Please note, even though the short stacks are technically free, you are expected to tip your server, and IHOP also asks that you consider making a donation to support the Children's Miracle Network and other designated local charities. Since its first National Pancake Day celebration in 2006, IHOP restaurants have helped raise over $13 million to support charities, so your donations today make a big impact.
UPDATE: This freebie is available from 7 am to 10 pm. Be sure to call your local IHOP to confirm participation before heading out!
For more details on National Pancake Day, click here. To find your closest IHOP restaurant location, click here.