Share the post "Celebrate Earth Day with BLINQ and Green Savings"
The following is a sponsored post in partnership with BLINQ
Saving money feels good but you know what else does? Saving the planet. You don't have to be a superhero or uber-conservationist to make smart, eco-friendly decisions. In fact, there are simple ways to positively impact our planet, while staying below budget.
Buying second-hand or refurbished items that otherwise would have gone in a landfill is a great way to be nice to the earth, and to your wallet. From clothing to furniture, and home goods to electronics there's a gamut of items you can buy on steep discount. As a frugal shopper and savvy consumer, this is a principle I live by, which was instilled in me at a young age. From shopping garage sales to receiving my first refurbished iPod many years ago, my parents helped me learn to look for discounts and savings and take advantage of refurbished products and overstock.
Since today is Earth Day it seems even more fitting to highlight a local company that has created a green solution in the consumer product space. They take overstock and returned goods from retailers, and pass along the savings to consumers. It's a win-win!
The company I'm talking about is BLINQ!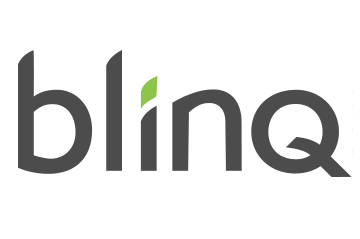 Raking up the returns
Have you ever thought about what happens to all the overstock, open box and returned items that retailers have? There are millions of items returned to retailers each year. MILLIONS! In fact, approximately 10% of all items purchased are returned.
To address this issue, BLINQ, based out of Washington, DC and Lanham, MD, was created to help retailers process, manage and resell their customer returned and excess inventory. They handle everything from computers, tablets, cell phones, TVs, cameras, video games, home goods, jewelry, strollers, clothing and more. The products are all professionally inspected to insure they are in good condition for resell. New and like-new items are continually listed online at a significant discount to consumers. Their site has become so popular, that their deals are seriously gone in the "blinq" of an eye!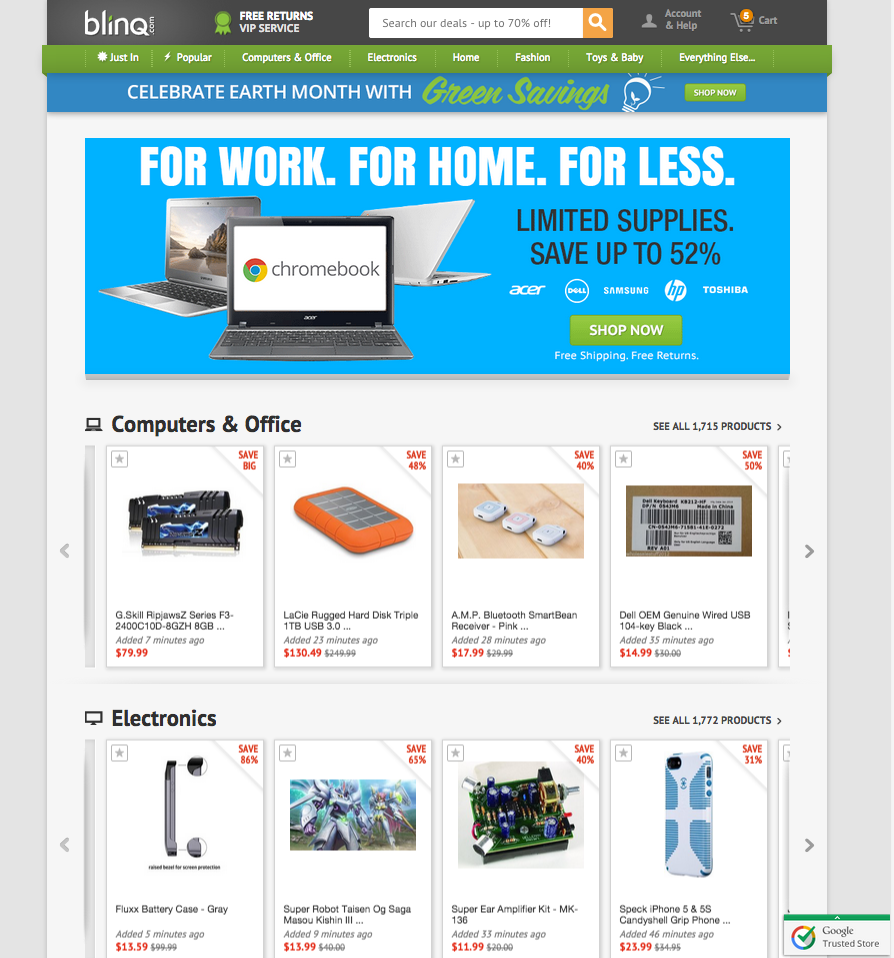 A green solution, committed to saving you green
Because they have taken out the middleman and work directly with retailers, BLINQ is able to pass along incredible savings to consumers. They also are able to minimize unnecessary shipments and pollution; BLINQ uses green shipping products such as recyclable boxes and other earth-friendly materials. The BLINQ team is so committed to saving the planet, that with every BLINQ purchase, they donate a tree helping rural communities and the environment through the non-profit Trees for the Future. They also share great tips and articles about green living.

On BLINQ.com, you will find most deals from 40% to 70% off regular retail price. Their products are checked, tested, and inspected to make sure they are in excellent, like-new condition, before being listed. BLINQ also guarantees the best price through their price match policy, and also offers free shipping and free returns.
Simply put, BLINQ.com is your go-to site for saving money and helping the earth.
To celebrate Earth Day and ways to save green, while going green, BLINQ is offering Beltway Bargain Mom readers a special discount code that will score you an additional 10% off their already incredible savings. Simply use the code BELTWAYBARGAIN at check-out, and you will receive 10% off, up to $20 off, your purchase. This code expires 5/1/2015 at midnight.
Enjoy "green savings" all year-round by shopping with BLINQ and discover all the awesome discounts right at your fingertips.
Connect with BLINQ:
Website: www.blinq.com
Blog: blog.blinq.com
Facebook: Facebook.com/blinq
Twitter: Twitter.com/blinq
Pinterest: Pinterest.com/blinq
Instagram: https://instagram.com/thinkblinq
Disclosure: This is a sponsored post and I was compensated by BLINQ to write this post and share their special coupon code here on my blog. The opinions stated here are my own, and I love to share awesome companies that make saving money easy! To read my formal disclosure policy, please click here