The following is a sponsored post in partnership with Peapod.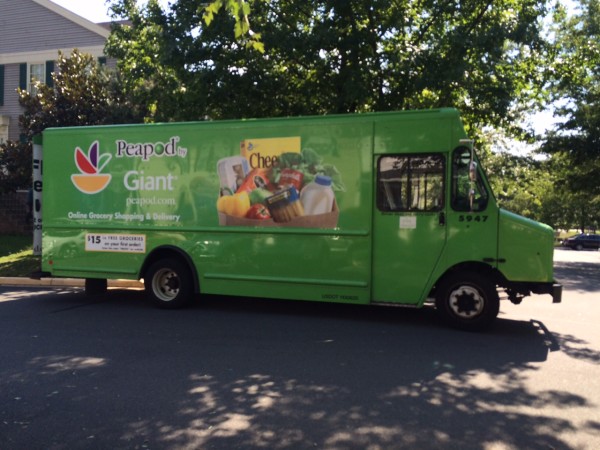 I have a routine down when it comes to grocery shopping: I look at the deals and sale items for that week, clip coupons and plan out my shopping trip. But sometimes heading out to the store — weaving through all the aisles to pile up my cart with all the items I need — with one or two kids in tow, is a lot of work. When I am short on time or have an especially hectic week, doing the necessary grocery shopping can be like pulling teeth. *NOT PAINFUL: KEEP READING FOR A FUN GIVEAWAY!*
Before a few weeks ago, I had never tried out a grocery delivery service. Sure, I had ordered plenty of products and household items online, but had yet to take the plunge and order a week's-worth of groceries online. I'm one of those people who likes going into the store myself; I enjoy scouting out clearance items and discovering unadvertised deals, plus being able to inspect the meat and produce items I am bringing home. However, there are definitely times when I'd prefer to avoid making a trip out to the store. You know, those days or nights when I just don't have the energy or time to mark another errand off my to-do list? Ordering groceries online can be a big help to those short on time and it doesn't mean sacrificing quality control.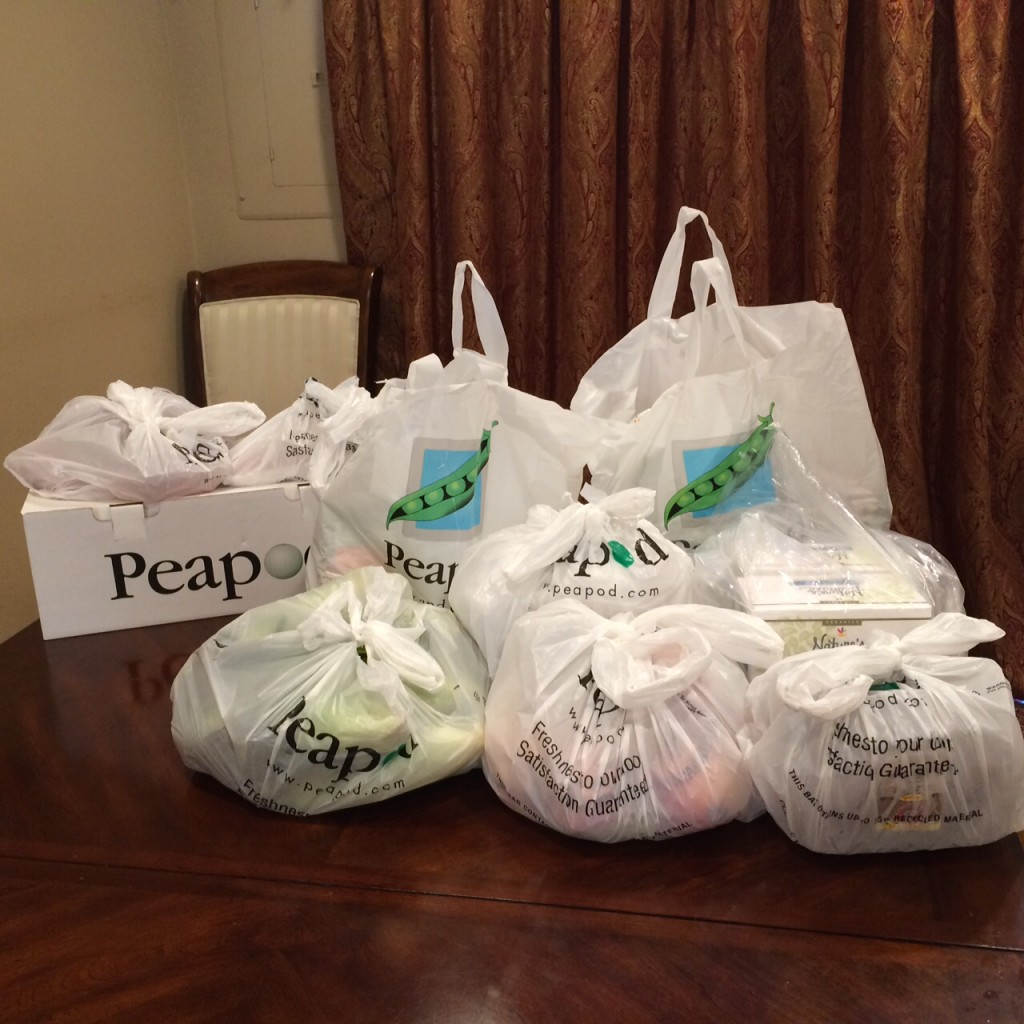 Peapod has been long-established as a leading internet grocer. Here in the DC area you can get Giant store products delivered right to your door thanks to Peapod.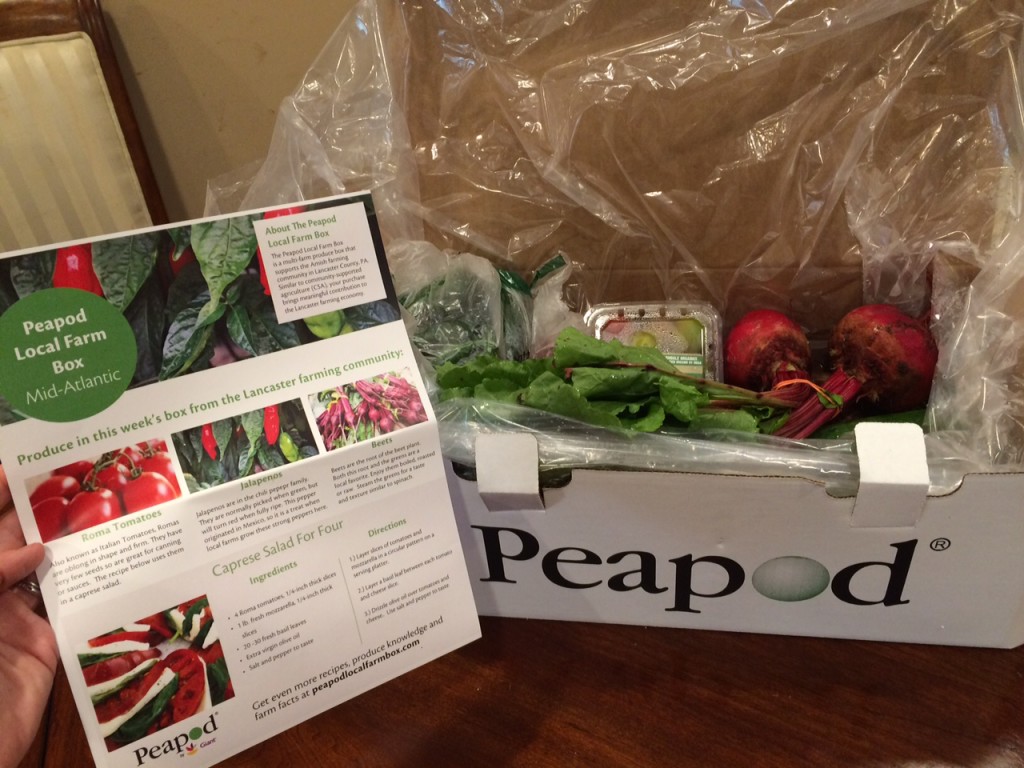 They even have a new Local Farm Box option, developed in partnership with FarmLogix. Consider it a convenient and flexible alternative to traditional CSA (Community Sustainable Agriculture) farm shares. With the Local Farm Box you can still get great fresh, locally grown produce and support local farmers, without needing to commit to an entire season. My order came from Lancaster County, PA and included fresh Roma Tomatoes, Jalapeños, Beets, Zucchini, Carrots and Cherry Tomatoes.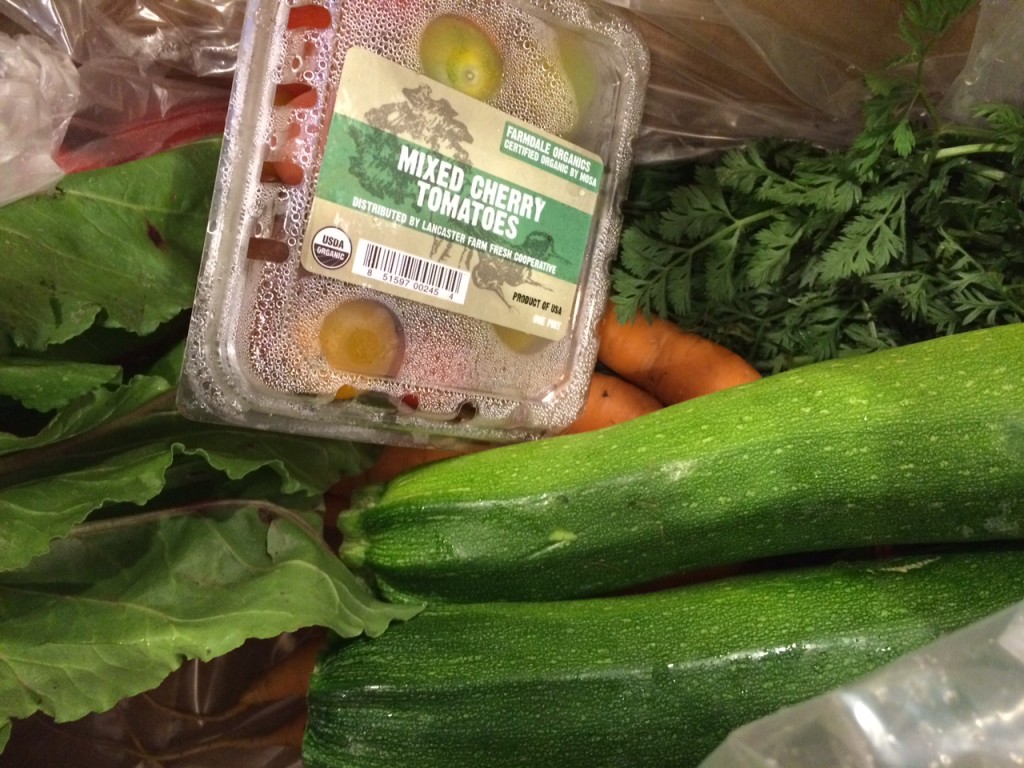 So you can of course save time by shopping online, but can you really save money?
I was surprised to find that you could actually save a decent amount of money. Peapod advertises thousands of sale items plus some "web only" deals that aren't available in Giant grocery stores. I like the "Top Specials" tab on the site which has all the deals in one spot, plus the "My Specials" tab displays current sale items that you have ordered on Peapod or with your Giant bonus card in-store on past purchases.
Another way to save money with Peapod is to use those coupons!  Peapod doubles manufacturers' coupons, just like Giant does in-store. To redeem your paper coupons, you simply put them in an envelope with your name, address, and order number, and hand over to your delivery person. You will then be credited back the doubled coupon value to your credit card. You can also use SavingStar and Ibotta on your Peapod orders!
Using the Peapod search filter, you can find and sort items by price, helping you determine the best price across various brands. You also have the option to order great-value store brands like Nature's Promise and Simply Enjoy, which are often much lower than name brand products.
Another great feature for frugal shoppers: The site features a running total of your bill, so there are no surprises on price (unlike many people who shop in-store and don't realize their bill has exceeded their budget, until they are scanning items at check-out).
Here's a run-down of some of the main advantages and disadvantages of using Peapod.
Benefits:
You can often find discount codes for free delivery for new users.
They currently offer discount delivery days (I chose a delivery day that was $5 off the normal delivery price).
They double manufacturer coupons up to $0.99 in face value.
You can get fresh, regional produce similar to what you'd order through a CSA.
For every dollar you spend on groceries at Peapod, you earn Gas Reward points! These become available 48 hours after time of delivery. Please note you must register your Giant card in your Peapod account to earn points.
Peapod customers can get a full year of meal planning for free at GatheredTable. You can build your weekly meal plan on GatheredTable and instantly add all the ingredients to your Peapod shopping cart.
Intuitive ordering functionality through the Peapod exclusive "Order Genius." This intuitive search recommendation engine paired with smart functionality helps repeat customers fill their order in a breeze.
Drawbacks:
If you're dangerously low on food and need groceries delivered right away, you will likely need to wait 1-2+ days until delivery.
Although you can earn gas points for dollars spent, you cannot earn the "Extra Reward Points" (ie. buy a certain number of specified items in one transaction and receive extra points) on Peapod purchases.
So can Peapod save you time and money? YES! And to prove it, Peapod wants to give one lucky BeltwayBargainMom reader the chance to win $100 to shop using Peapod!
Connect with Peapod
Facebook: Facebook.com/PeapodDelivers
Twitter: @PeapodDelivers
Instagram: @PeapodDelivers
Enter my giveaway by using the rafflecopter form below:
Disclosure: I was invited by Peapod to try out their service on them and share my experience on my blog. 
The opinions stated here are my own, and I love to share grocery shopping tips and giveaways with my readers! To read my formal disclosure policy, please click here.