The following is a movie review for the newest Disney-Pixar film. Beltway Bargain Mom and family were invited to attend a special pre-screening of "The Good Dinosaur" earlier this week, and I'm excited to share this with you!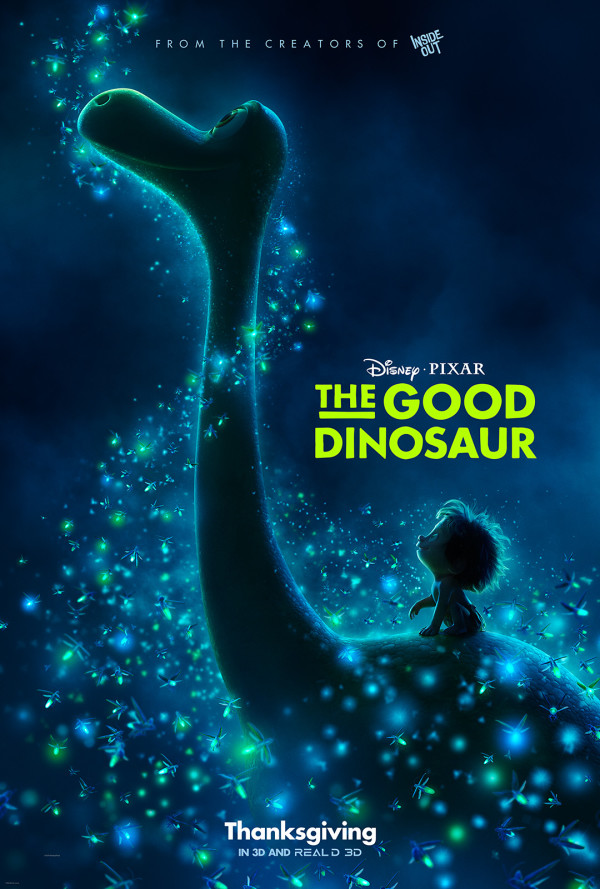 After the turkey has been gobbled up, and your stomach has settled, if the little ones get restless, consider rallying your kids and heading out to catch the newest Disney-Pixar movie this Thanksgiving weekend.
"The Good Dinosaur" invites you into an alternate, modern-day world where dinosaurs rule the earth. What would the earth be like if an asteroid had never struck and decimated the dinos? Disney-Pixar paints a landscape of dinosaurs who would speak and reign the earth as farmers, ranchers and cowboys.
The story centers around a lovable, runt Apatosaurus named Arlo (voiced by Raymond Ochoa and Jack McGraw) who faces hardships and adventure as he sets off on an incredible journey. Along the way, he deals with the loss of his father, facing his fears, and learning how to make his mark in a world that seems to have written him off as a weakling.
Both of my children, ages 5 and 9, enjoyed this film. They were entranced by the CG imagery and animation as well as the various types of dinosaurs depicted. The storyline and humor-level were typical of what you'd expect from Disney-Pixar; there were humorous scenes and jokes that left my kids giggling throughout the film, while they also delved into heavier topics like loss, fear and forgiveness. My son was hysterically swooped away by one scene in particular — which he didn't completely understand — and I saw him stifling back laughter for the remainder of the film…. even during tragic scenes further ahead in the storyline (when he should not have been laughing). He just kept replaying that ridiculous scene in his head (which involved Arlo and Spot accidentally eating fermented fruit and a bizarre hallucination scene). The scene was reminiscent of Dumbo's infamous hallucination scene; perhaps not the most age-appropriate, but it definitely resulted in an eruption of laughter throughout the entire audience.
My 9 year old son gave the following synopsis to share with you all:
This movie was about a dinosaur named Arlo and a human named Spot. Arlo's brother Buck and his sister Libby are brave and helpful on the farm. They each make a muddy footprint on the stone, storage tower and Arlo is sad he isn't allowed to make his mark yet. During the movie Arlo discovers how to face his fears. He finds a human named Spot. They are lost and travel together to find their way back to Arlo's home. At first Arlo did not like Spot much, he even blamed him for his father's death. But during their journey, Arlo befriends Spot and helps save his life near the end of the movie.

A moral of the movie: Be patient. Arlo really wanted to make his mark, but he had to earn it. Sometimes it takes you longer to accomplish your goal than others, and that's okay.
It was a bit harder to coax a review from my 5 year old daughter, but she indulged me by answering a few questions:
Me: What is the movie about?
My daughter: A dinosaur named Arlo and a boy named Spot. Arlo is a good dinosaur.
Me: Who is your favorite character?
My daughter: Spot is my favorite character because when Arlo is in trouble, Spot saves him.
Me: Can you share a funny part of the movie?
My daughter: When Spot brought a big bug to Arlo to eat, and Spot was nodding his head to eat it and wanting him to eat the bug. But Arlo was disgusted and pushed it away, then Spot tore off the bug's head. (can you tell her humor has been influenced by her older brother? yikes!)
Me: Did you like this movie?
My daughter: Yes
When I asked both of my children if they thought others would enjoy this movie, they both responded, "yes, because it is funny."
Disney-Pixar's The Good Dinosaur is an animated, family film rated PG. It opens in theaters on November 25, 2015. The movie length is 100 minutes.
*I was invited to attend a special, pre-screening event of Disney's The Good Dinosaur for members of the press and their guests. Please note, I am not a movie critic and was not compensated to write this post. All opinions are my own.