Share the post "Christmas Card Crunch Time: Shutterfly To The Rescue"
The following is a sponsored post in partnership with Shutterfly
I've always been a letter and notecard type of person. Back before e-mail, the only mail I cared about was delivered by the postman right to my family's mailbox (and arguably, to this day, the most meaningful messages still come to my mailbox, not my inbox). I loved writing letters and had numerous pen pals as a child. Even today, I adore beautifully-designed stationery and cards, but take even greater joy in the messages and words contained in letters and cards sent from dear friends and family.
In this digital age, written letters and (non junk) mail sent through the postal service and carriers is steadily diminishing. However, I find that Christmas is one of my favorite times of the year to send out cards and greetings, as well as receive those from friends and relatives far and near.
If the holiday season has snuck up on you (T-minus 16 days until Christmas!), let me tell you, we're down to Christmas card crunch time! If you haven't sent out your cards (like the majority of us) or are debating on not sending out any at all, I want to encourage you to get your cards while there's still time. I'm excited to share with you some reasons why Shutterfly can help!
1. Holiday Greetings
If you've been looking for the perfect greeting card to reflect your personal take on the season, Shutterfly has a wide variety of themes and sentiments. They have Holiday Cards and Christmas Cards, even offering separate Christmas categories to help you refine the message of your card: General Christmas Cards, Religious Christmas Cards, and Tarjetas De Navidad (in Spanish). They also have Hanukkah cards for those celebrating the Feast of Lights.
If you end up missing the boat on ordering in time for the holidays or don't celebrate the holidays, you can always send out New Year's Cards (we've done this during very busy years when the cards didn't get mailed out until January).
2. Photo Cards
I'm a big fan of photo cards. These cards allow you to share a picture of your family, your kids, and/or your pets to show how much they've changed in the last year. It's also a great excuse to actually take pictures of your family, to capture the little (or big) moments in your life. Sometimes the push to take a nice family picture for the Christmas card, results in the only decent group picture we get for the entire year! Plus I love receiving photo cards from family and friends, particularly those who I don't see on a regular basis.
Photo cards also save time! I used to mail out traditional Christmas cards along with separate photos and later a newsletter-style print-out with photos. My envelope was more bulky and the process of folding all those newsletters or enclosing photos in the envelope took more time. Choosing a photo card combines two great things and creates a smoother enveloping process.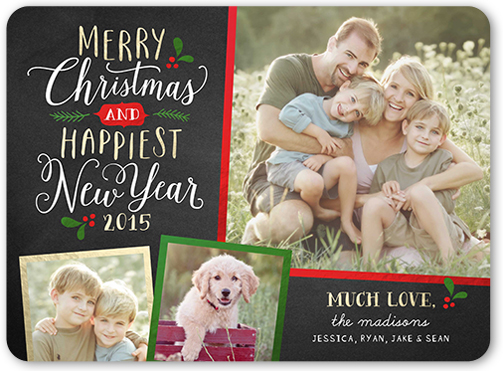 3. Traditional Cards (Text Only)
If you don't have any photographs that you'd like to include on your card or you happen to be a non-picture person, Shutterfly does have a few text only cards. I found a nice text only religious Christmas card with the manger scene and Luke 9:11. These options are limited, however you can always delete picture placements from the photo card designs or upload an image of a poem or message.
4. Create Your Own Design
With a wide variety of designs, you are bound to find one that catches your eye. However, Shutterfly wants to ensure you create the perfect card for you, so they have the option for you to create your own design. If none of their card designs quite fit the mold for what you envisioned, or you've already designed something yourself, you have the option to upload your own design.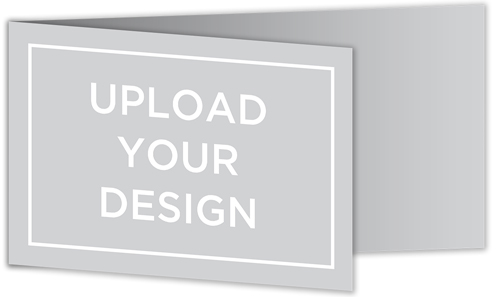 5. Personalization
I love that you can add your name, year and a personalized note to your cards. One way I like to personalize my Christmas cards is by adding a note about the ages of my children and any monumental events that have happened since last Christmas. You can personalize your card by adding a holiday message or an update on what your family has been up to this year.
6. Options & Fancy Features
On Shutterfly.com you'll find flat and folded card formats (including 3/4 fold and tri-fold). They have a wide variety of paper types from which you can choose: Signature Cardstock, Photo Paper, and Pearl Shimmer Cardstock. Let's say you want to fancify the border of your card; trim options vary by card, but can include: Square, Rounded, Bracket, Ticket and Scallop.
Special features include Foil-Stamped Cards and their new Ornament Cards. I just received a Shutterfly ornament card in the mail from my cousin and his wife in Illinois (featuring pictures from their family trip to Walt Disney World), and it is cute! It is a flat, paper ornament with a ribbon tied through the top, ready for you to hang on your Christmas tree.
If all of these choices overwhelm you, look at the vertical search box on the left-side of their website to refine your search.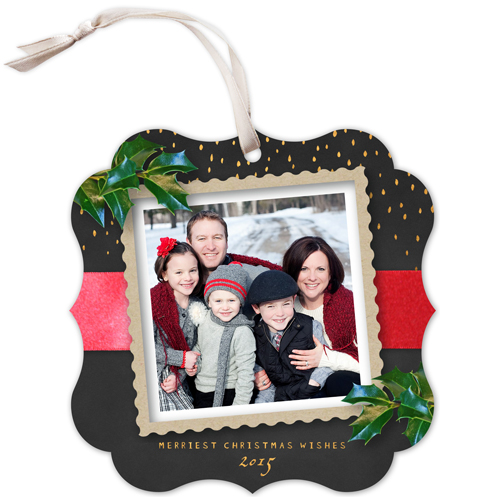 7. Add-on Mailing Service
For those who are pressed on time or would like to simplify the Christmas card mailing process, you can opt to purchase add-on mailing services with your Shutterfly order. Shutterfly can print address labels, print out the address fields on your envelope and/or stamp and mail the cards for you!
Hopefully this has given you the last little push you need to order your Christmas cards (no more procrastinating)! I'm happy to share that Shutterfly has a coupon code that will give you 40% off everything on their site! Just type in the code FAVES40 to get your discount at check-out, but hurry, this coupon code is only good through December 10, 2015.
Merry Christmas from my family to yours!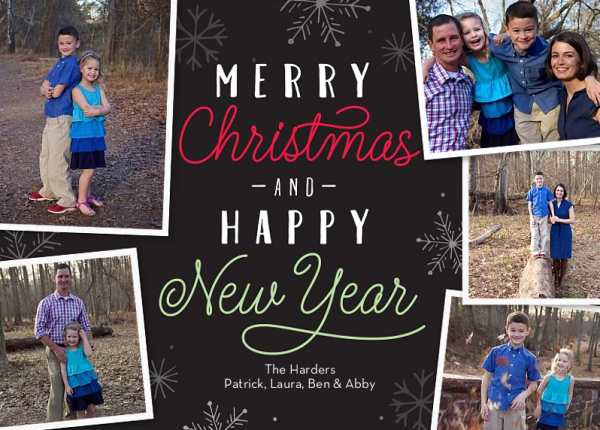 Connect With Shutterfly on Social Media
Instagram: @Shutterfly
Pinterest: Shutterfly
Twitter: @Shutterfly
Facebook: FB.com/Shutterfly
Disclosure: This is a sponsored blog post; while the views expressed here were genuinely mine, consideration was paid to me by Shutterfly. I love to share websites and resources that are a good value to my readers. To read my formal disclosure policy, please click here.