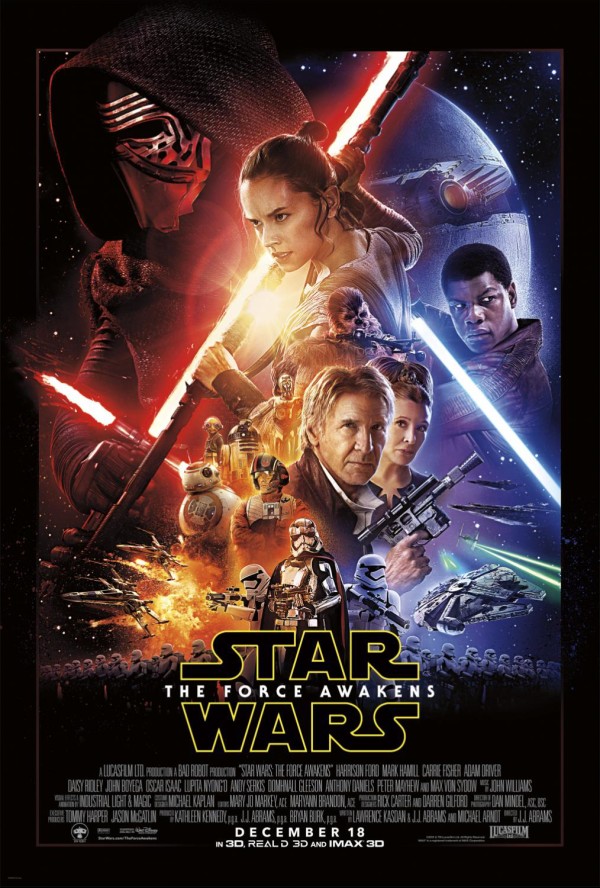 There's been a lot of hype building up for the release of the new Star Wars movie. My whole family is excited about the new film, even my bubbly 5 year old daughter who in her own cute "Darth Vader" voice told me to join the dark side this morning (which may have been in reference to not having my much-needed jolt of java at that point of the day…). However, my 9 year old son is probably the most excited of everyone in my household, closely followed by my husband. My son has been looking forward to this movie release for a long time!
I didn't have the heart to tell my kids that I was invited to an exclusive screening of the film in Washington DC earlier this week, because I was not allowed to bring guests with me. My son will be pretty mad at me once he realizes I got to see the movie before him (I've been able to take him to some other Disney movie screenings in the past).
However, I'm glad I had the chance to check out the movie before its release — because I wanted to gauge whether the movie would be appropriate for my own children. The movie is rated PG-13 and I have a 9 & 1/2 year old and 5 year old. I tend to be a bit more conservative in what movies I allow my children to see, especially in the theaters when I can't hit the fast forward button.
The verdict? My 9 year old son will get to see the movie in theaters with my husband this weekend, but not my younger daughter.
My son has seen the other Star Wars movies at home on DVD. My daughter has also seen large portions of the older Star Wars films. However, seeing this film in the theater can be a bit intense for younger viewers. There's lots of action and more violence than previous Star Wars films. There are some intense battle scenes showing villagers being killed by the bad guys. Add in the theater setting, booming surround-sound, and large screen display it may be a bit much for younger viewers who are accompanied by their parents. The PG-13 rating is due to "Sci-Fi Action Violence" so keep this in mind when considering whether or not to bring your kids along with you.
There's been a lot of suspense building up around the new characters and if any of them are related to Luke, Leia or Han. I won't spoil the movie for you by giving away any of that, but let me just say that the movie is fantastic!
This movie absolutely lives up to the hype and delivers a compelling story-line, action-packed adventure, and superb acting by the new cast members. You don't have to be a die-hard Star Wars fan to love this film, but it appears most people do indeed have the force within, as this movie is a hot topic everywhere I turn. This certainly is the film event of the year and worthy of bringing your family to see it during winter break!
Genre: Action-Adventure
Rating: PG-13
U.S. Release date: December 18, 2015
Summary provided by Lucasfilm:
Lucasfilm and visionary director J.J. Abrams join forces to take you back again to a galaxy far, far away as Star Wars returns to the big screen with Star Wars: The Force Awakens.

The film stars Harrison Ford, Mark Hamill, Carrie Fisher, Adam Driver, Daisy Ridley, John Boyega, Oscar Isaac, Lupita Nyong'o, Andy Serkis, Domhnall Gleeson, Anthony Daniels, Peter Mayhew and Max Von Sydow. Kathleen Kennedy, J.J. Abrams and Bryan Burk are producing with Tommy Harper and Jason McGatlin serving as executive producers. The screenplay is by Lawrence Kasdan & J.J. Abrams and Michael Arndt.
If your kids love Star Wars like mine, be sure to print off this fun Star Wars The Force Awakens Activity Sheets for Kids including coloring sheets, bookmark, memory game, and DIY console panels to create your own personal cockpit design.
May the force be with you! Let me know if you take your kids to see the movie and what you think!
*I was invited to attend a special screening event for Star Wars: The Force Awakens earlier this week. Please note, I am not a movie critic and I was not compensated to write this post. All opinions are my own.