Share the post "Hotel Review: Comfort Suites Near Potomac Mills (Woodbridge, VA)"

Looking for a review of Comfort Suites near Potomac Mills? During a press trip with Discover Prince William and Manassas in the fall, I was invited to stay at the Comfort Suites near Potomac Mills Mall in Woodbridge, VA.
Prior to this stay I do not recall ever being a guest at a Comfort Suites hotel. I suspected from the name that this would be a cozy and comfortable stay, but probably not the most spacious or contemporary accommodations. However, they proved me wrong on the latter!
Comfort Suites near Potomac Mills
Address: 14525 Gideon Drive, Woodbridge, VA, 22192
Phone: 703-490-4100
Website: http://ComfortSuites.com/VA690
Facebook: FB.com/Comfort-Suites-Near-Potomac-Mills-171404059865356/
Comfort Suites near Potomac Mills was recently renovated and boasts an indoor, open atrium and plenty of amenities. Whether you have relatives or out-of-town guests seeking lodging, or perhaps you want to enjoy a night away, Comfort Suites is a great option. Conveniently located near I-95 in Woodbridge, VA, Comfort Suites by Choice Hotels is perfect for both families and business professionals alike.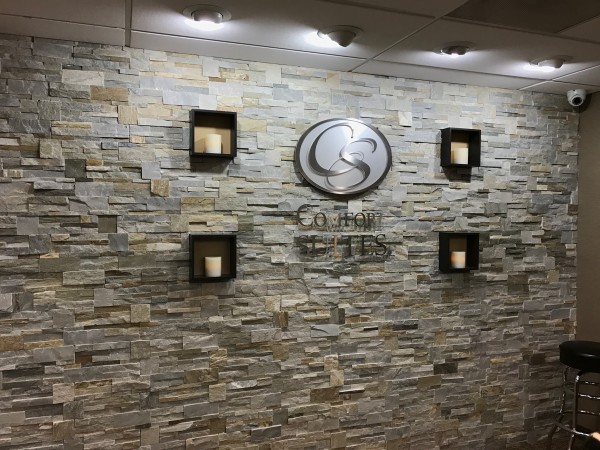 As I walked into the hotel, I discovered a newly renovated and modern lobby opening up to a bright and spacious atrium. The staff warmly greeted me and assisted with check-in. I was impressed by the contemporary and classy interior design and decor.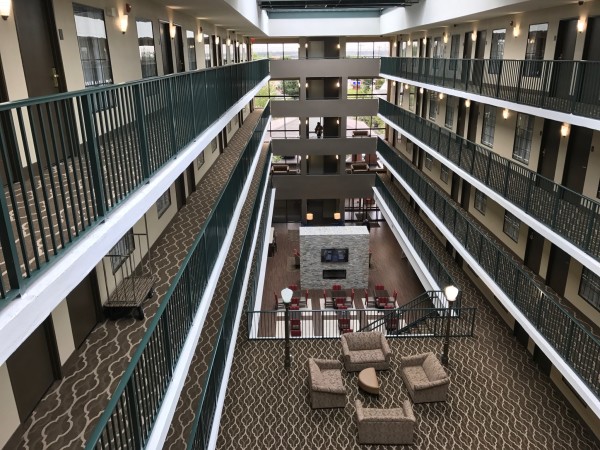 I took the elevator up to my floor and as I entered my king suite, I was pleased by the spacious floor plan. After stepping through the door I found myself in the living quarters or "guest room" which included a seating area with a sofa and arm chair, as well as a TV, computer desk and chair, complete with ample lighting and a charging station. I discovered that the sofa folds out into a 2-person sofa bed, which is useful if you need extra sleeping space to accommodate children or friends.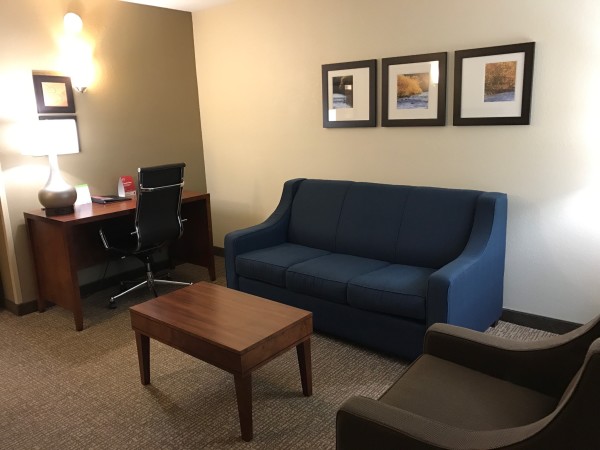 As I walked further back in the suite I got a glimpse of the bedroom. The room was spacious and bright featuring a king size bed, night stands, dresser drawers, another TV, alarm clock and closet.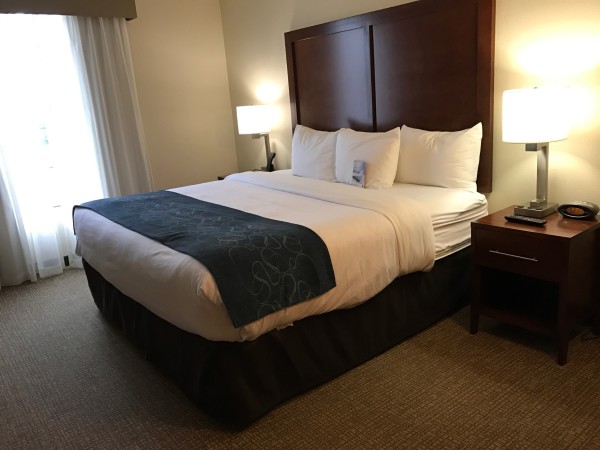 People always wonder about the bathrooms at hotels, and you may notice that not many hotels show pictures of their bathrooms and don't share this in their virtual tours. I'm pleased to share that the Comfort Suites bathroom boasted a clean and modern look. Plenty of towels, simple and fresh interior design, plus a cleverly curved shower curtain rod that made the shower seem more open (don't you hate how most hotel bathroom showers make you feel so confined?).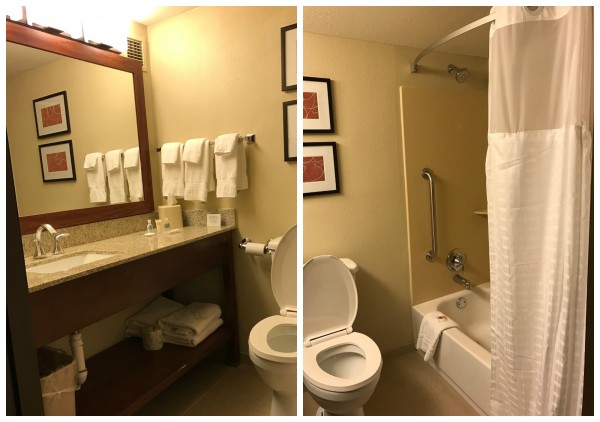 Besides the clean and modern rooms, the following amenities make Comfort Suites near Potomac Mills a great hotel option for Northern Virginia travelers:
Free continental breakfast. This hot breakfast offers everything from eggs, waffles, sausage and bacon, to healthy choices you can grab on the go such as yogurt and fresh fruit.
Free WiFi and Hi Speed Internet.
Indoor heated pool.
Exercise room.
Business center.
Guest laundry facilities.
Wondering how much it costs to stay at Comfort Suites near Potomac Mills? On their ChoiceHotels Comfort Suites Near Potomac Mills main homepage, they claim to offer a lowest price guarantee, which when I checked, had a best available rate of $89 (this is subject to change). What a great value! They also offer special rates for the following:
Senior Citizen/AARP
Government or Military
State Government
AAA/CAA Program
Choice Privilege Rewards Members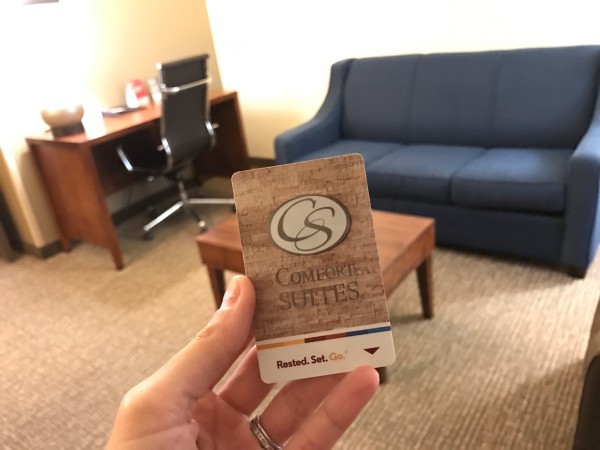 Comfort Suites has a slogan: "Rested. Set. Go." That is exactly how I felt after spending a relaxing evening at their hotel before finishing up my press trip.
The next time you need to book a hotel in Woodbridge, definitely check out Comfort Suites. Comfort Suites near Potomac Mills meets my criteria for affordability, family-friendliness, and cleanliness!
Disclosure: The Discover Prince William and Manassas tourism team hosted me for an Outdoor and Family-Friendly press trip. I received complimentary lodging at Comfort Suites for one night. I have not received any compensation to write this blog post. All opinions are my own. To read my formal disclosure policy, please click here.