The following is a sponsored post in partnership with Safeway 
The holiday season is a busy one, bustling with social events and celebrations. Thankfully there is also more time spent gathered with loved ones in the kitchen and around the table.
Creating memories during mealtime has always been a favorite of mine. I love to bake, particularly during the holidays, and I'm always looking for new recipes and kitchen hacks to make my life easier!
As you savor this most wonderful time of the year, Safeway is sharing great, helpful cooking tips and family-approved recipes.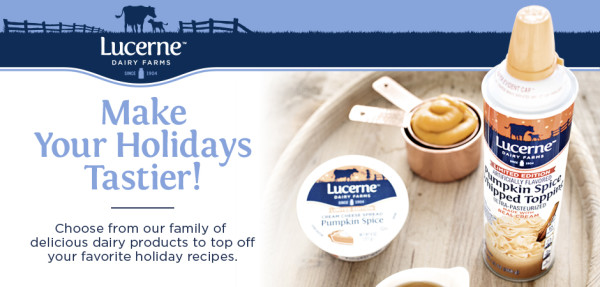 If you're like me, you want to use the best, high-quality ingredients as you whip up breakfast, bake decadent desserts, and craft your family heirloom recipes and holiday meals. Lucerne® Dairy Farms products, available exclusively at Safeway stores, have been a trusted leader in dairy for over 110 years. Offering the best in dairy, from eggs to butter, milk to ice cream and more, Lucerne® ingredients are affordable and sure to make your family's food festivities merry and bright.
Safeway Executive Chef Jeff Anderson has used Lucerne® Dairy Farms ingredients to create some scrumptious holiday recipes that are sure to wow your family. His recipes and kitchen hacks are perfect for the most wonderful — and busiest! — time of the year.
Chef Jeff Anderson's Tips and Tricks
Chef Jeff Anderson offers the following four kitchen hacks to help make your holiday cooking a breeze!
1. Take inventory: Before diving into cooking and baking this holiday season, check your pantry, refrigerator and freezer to make sure you have all the essentials. Need to do some last-minute shopping? No worries! Safeway can deliver your last-minute needs in one-, two- or 4 hour windows with Safeway Grocery Delivery! Access this service by downloading the Safeway Delivery App, available for iOS™ and Android® devices, or online at shop.Safeway.com.
PRO TIP: Keep extra flour and sugar in the pantry, stock up on an 18 count of Lucerne® Eggs, and store Lucerne® Butter in the freezer so you have it on hand to make last-minute dishes for the parties you'll be attending or hosting!
2. Gather, Measure, Ready: (Or as the French say "Mise en Place") Before you begin baking your scrumptious treats, organize all of your ingredients, utensils, and baking materials. Use these simple steps to help you prepare and not waste any time in the kitchen:
Gather: Pull together all of your ingredients.
Measure: Before you get your hands dirty, pre-measure your dry ingredients such as flour, salt, spices, as well as liquid ingredients, such as dairy.
Ready: Get your oven pre-heated before you start, so there is no waiting around.
3. Get ahead of the game: Have an early morning start? Prepare dishes that can be made ahead of time and freeze them until it's go time! As an example, freeze your Pumpkin Chocolate Rolls made with Lucerne® Pumpkin Flavored Cream Cheese and then pop into the oven just before guests arrive so they will smell the delicious aroma when they walk through the door!
PRO TIP: Take the extra step, and prepare whipped cream to top off your desserts! Try out this Whipped Cream Recipe using just four ingredients including Lucerne® Heavy Whipping Cream. This is great for coffee drinks, kids' treats, adult beverages and more!
4. Dry run: Read over your recipe a few days in advance. When menu planning, make notes, check your inventory, and think through everything you need to prepare the recipe.
Now that you have four tried and true cooking hacks from an expert, test out your culinary skills and wow your relatives with some new recipes from Chef Jeff and Safeway!
Kids, and adults alike, will love the Cream Cheese Topped French Toast with Pumpkin Spiced Cream Cheese for a delicious holiday breakfast treat. I baked this for breakfast the other weekend, and it was a family pleaser!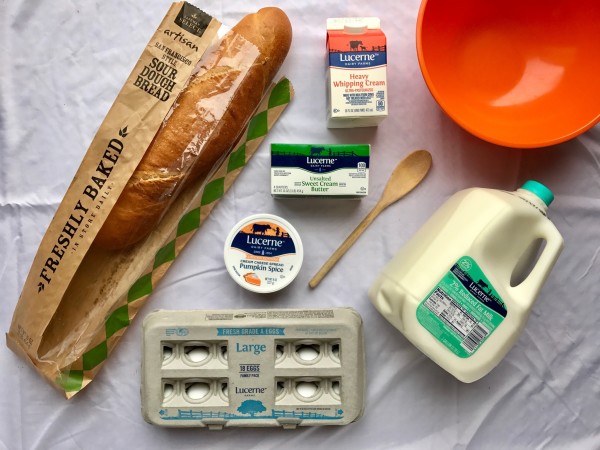 Cream Cheese Topped French Toast with Pumpkin Spiced Cream Cheese
Servings Per Recipe: 8
Serving Size: 1 slice
Ingredients:
8 slices sourdough bread, sliced 1-inch thick
4 Lucerne® eggs
2 cups Lucerne® milk
2 tablespoons granulated sugar
1 tsp kosher salt
1 tsp Pumpkin Pie Spice
4 tablespoons Lucerne® unsalted butter
Ingredients For Topping:
1 cup Lucerne® pumpkin cream cheese
2 tablespoons brown sugar
1 tsp pumpkin pie spice
1 tsp nutmeg
Steps (Directions):
1. Pre-heat oven to 350 degrees.
2. Create custard, mix egg, milk, sugar, salt and pumpkin spice.
3. Dredge bread in custard.
4. Warm medium to large size skillet over medium heat, brush with butter.
5. Place bread onto skillet, allow custard to set up.
6. Turn toast over and place into oven for 3-4 minutes.
7. Remove French toast from oven and transfer to serving platter.
Steps for Topping:
1. Prepare topping, in mixing bowl combine cream cheese, pumpkin puree, brown sugar, spices and nutmeg.
2. Whip for 1-2 minutes either by hand or machine.
3. Dollop Pumpkin Spice Cream Cheese on top of prepared French toast.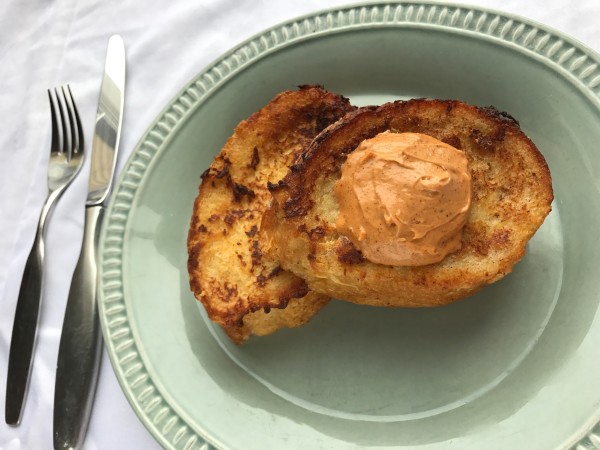 Have some leftover eggnog? Try these Eggnog Cookies for another delicious holiday treat!
Serving Size: 4 & 1/2 dozen
Ingredients:
3/4 cup unsalted butter, at room temperature
1 cup sugar
1/4 cup light brown sugar
1 egg
1 tsp vanilla
1/2 cup Lucerne® Eggnog
2 1/4 cups all-purpose flour
1 tsp baking powder
1/2 tsp cinnamon
1/4 tsp fresh nutmeg
1/2 tsp kosher salt
Extra nutmeg for garnish (optional)
Steps (Directions):
1. Preheat oven to 300º. In a stand mixer combine butter with sugar and brown sugar until creamy. Add egg, vanilla and eggnog mixing until combined. In a separate bowl whisk together flour, baking powder, cinnamon, nutmeg and salt. With mixer on low speed, add flour mixture in small portions until completely incorporated.
2. On parchment lined baking sheet, drop dough by rounded teaspoonfuls, about 2 inches apart. Bake 13-15 minutes. Let cool on rack 2-3 minutes before transferring to cooling rack.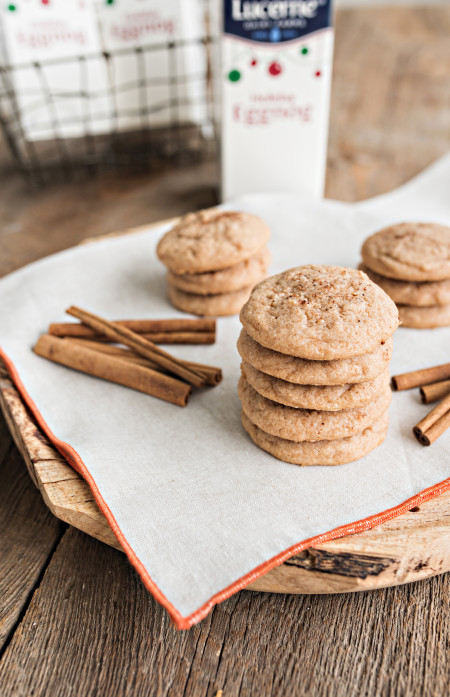 Safeway Holiday Cooking Recipes
Find even more delicious recipes and tips at Safeway.com/Lucernedairy and shop for all the best Lucerne® dairy products found exclusively at your local Washington DC Safeway store.
More about Safeway's Executive Chef Jeff Anderson
Chef Jeff Anderson is responsible for developing new product ideas and recipes for Safeway stores. He has over 35 years of experience in providing a gold standard of food excellence at affordable prices for his customers. He is a graduate of the prestigious Culinary Institute of America in Hyde Park, NY, and attributes his culinary style to his work at the luxury hotel Rosewood Mansion on Turtle Creek. Chef Jeff truly has a passion for inventiveness in the kitchen and draws upon his own experience of owning two restaurants.
Chef Jeff enjoys sharing cooking tips and simple-yet-delicious recipes. He is on a mission to help home cooks create better meals, and help customers stretch their cooking dollar, which is at the heart of his role as an Executive Chef. As a father of two, Chef Jeff is passionate about creating recipes that taste great, in addition to being budget-friendly and easy to prepare for today's fast-paced lifestyle.
Disclosure: This post is sponsored by Safeway, and I have been compensated for my participation. All opinions are my own. I love to share money-saving strategies with my readers, particularly cooking tips and grocery store savings. To read my formal disclosure policy, please click here.