May is the perfect time to head to the theme park! The crowds are minimal, the waiting lines are short, and the weather is mild (no dealing with sweltering temperatures like we'll have later this summer!).
As if these reasons weren't enough, you now you have yet another great reason to visit one of Virginia's most popular amusement parks during the first three weekends in May: Kings Dominion Taste of Virginia!
What is Taste of Virginia?
This special event is a combination of culinary treats and coasters! Kings Dominion Taste of Virginia unites thrill-seekers and foodies, inspired by the rich history of the Commonwealth and its unique cuisine, wine, beer and spirits.
Event: Taste of Virginia at Kings Dominion.
Dates: Weekends from May 6 – 21, 2017.
Times: 12:00 pm – 6:00 pm. (check with the park to ensure closing time, as this may vary)
Is the Taste of Virginia event included in regular admission to the park?
If you purchase regular admission to Kings Dominion, you can attend the Taste of Virginia event, which is located near the Candy Apple Grove section of the park. However, if you want to taste the food samples or drink wine, beer, spirits, or other beverages inside the Taste of Virginia event area, you will need to purchase tokens. You can buy tokens online in advance or buy inside the park.
Taste tokens are sold online starting at $3.80 for 3 tokens, $7.60 for 6 tokens, $11.40 for 9 tokens, $15.20 for 12 tokens, or $19 for 15 tokens. If you wait to buy tokens in the park, the pricing is only a little bit more: $4 for 3 tokens, $8 for 6 tokens, $12 for 9 tokens, $16 for 12 tokens, or $20 for 15 tokens.
Please note, you must present a valid ID proving you are 21 or older if you plan to redeem tokens for alcoholic beverages.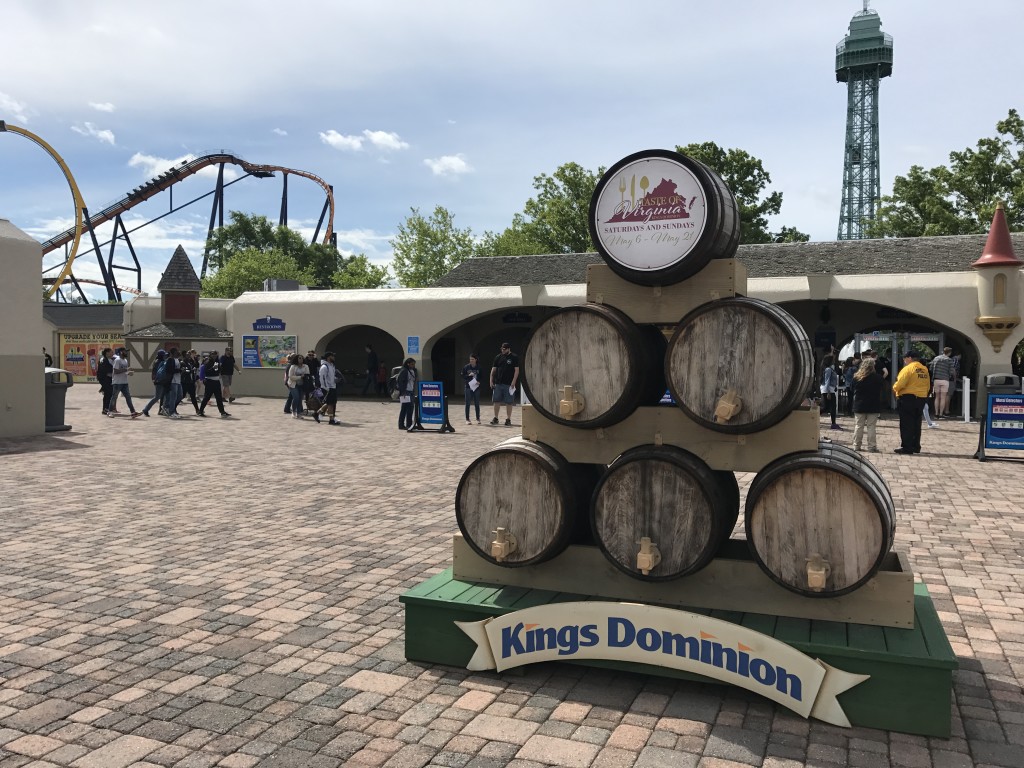 Here are the top reasons why you should visit Kings Dominion for this special event!
5 Reasons to Visit Kings Dominion During Taste of Virginia
1. Food Inspired by Distinct Commonwealth Regions & Traditions
Take a culinary journey across the Commonwealth! Enjoy menu dishes inspired by different regions and times of Virginia: Tidewater, Chesapeake, Blue Ridge, Colonial Virginia, and Piedmont. Some of our favorite menu items included: Shrimp & Grits, Crispy Crab Cakes, Chesapeake Mac N' Cheese (with crab on top), Fried Chicken & Creamy Drumsticks, Sweet Potato & Roast Duck Popover, Smithfield Ham & Cheese Empanadas, Fried Winesap Apple Pie, and Pecan Praline Pie. Food samples cost 2-4 tokens each.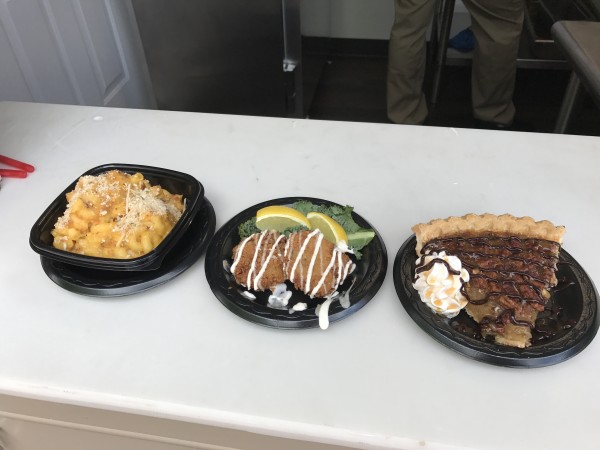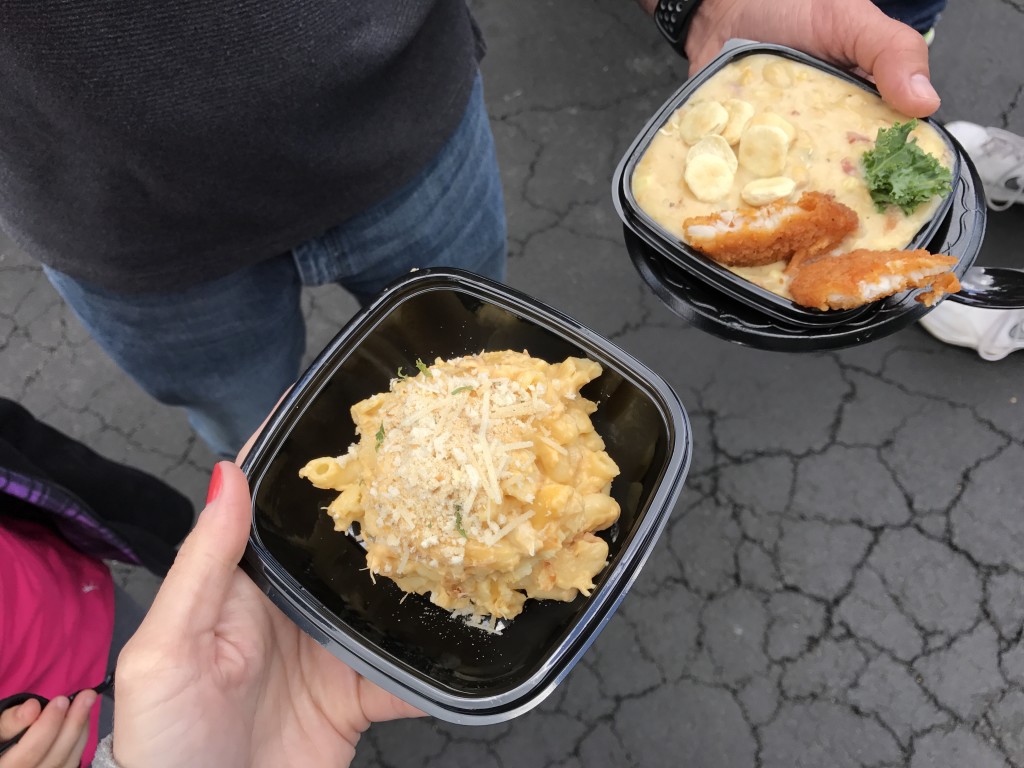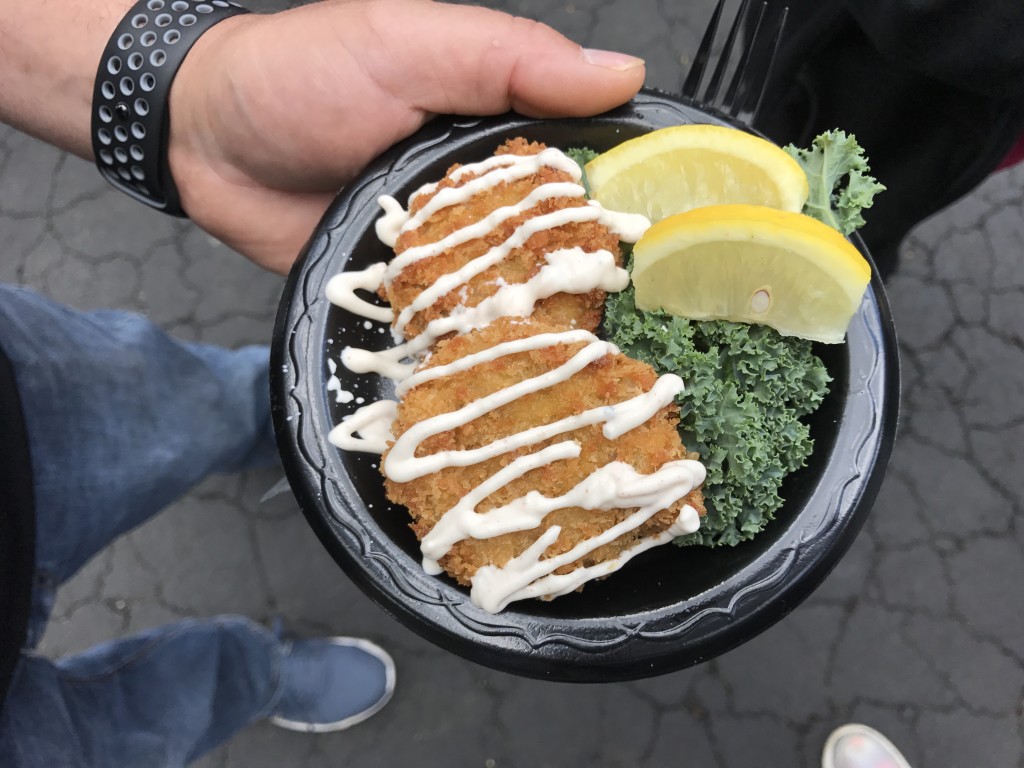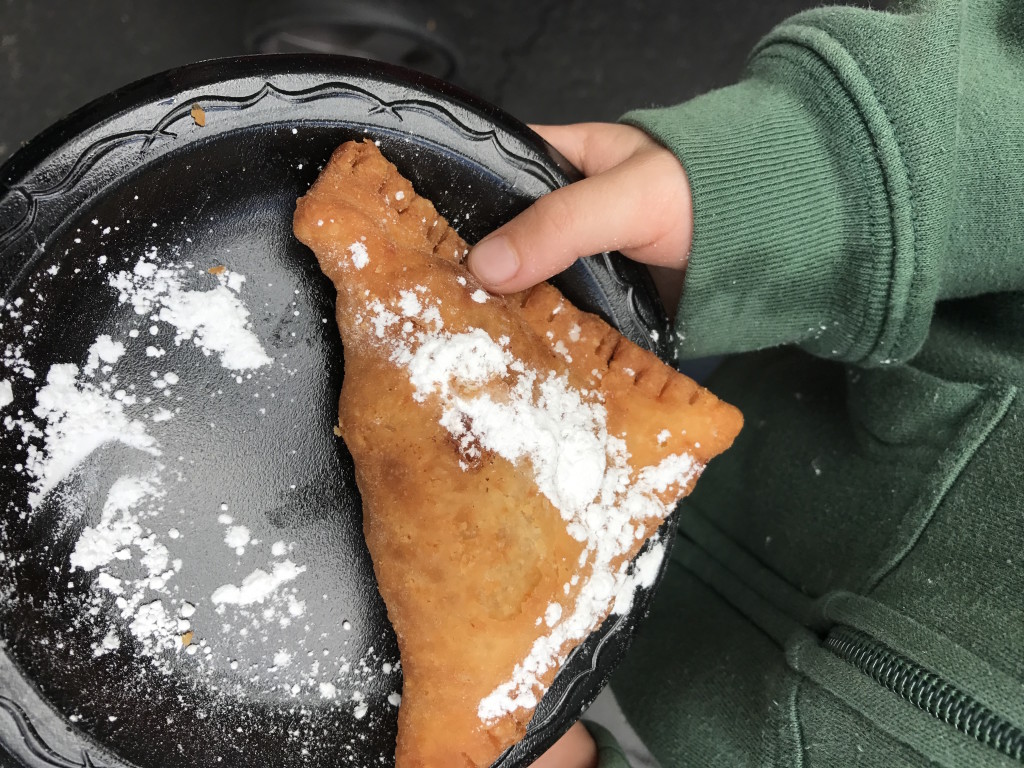 2. Great Value Food for Theme Park Dining
The Taste of Virginia food samples are not a full meal, but when you buy 2 – 4 plates of samples you will get a nice lunch or dinner. The food from Taste of Virginia ends up being a pretty good value compared with the traditional amusement park food options (although our kids did enjoy some pizza and funnel cake later on in the park).
3. Local Wine, Craft Beer & Virginia Spirits
Vino fans can enjoy wine from local vineyards and wineries such as: Chrysalis Vineyards, Rappahannock Cellars, Rockbridge Vineyard, and White Hall Vineyards. If you're a beer connoisseur, sample the best craft brews from local breweries. Enjoy beer from: Bold Rock Hard Cider, Center of the Universe Brewing Company, Devil's Backbone Brewing Company, Hardywood, and Legend Brewing Company. Wine and beer cost 4 tokens each.
Partake of samples from the best local distilleries ranging from whiskey and moonshine to bourbon and cocktails. Each weekend a different distillery will be featured. The schedule is as follows:
Filibuster Distillery May 6-7; Belmont Distillery May 13; Belle Isle Craft Spirits May 14; Copper Fox Distillery May 20-21.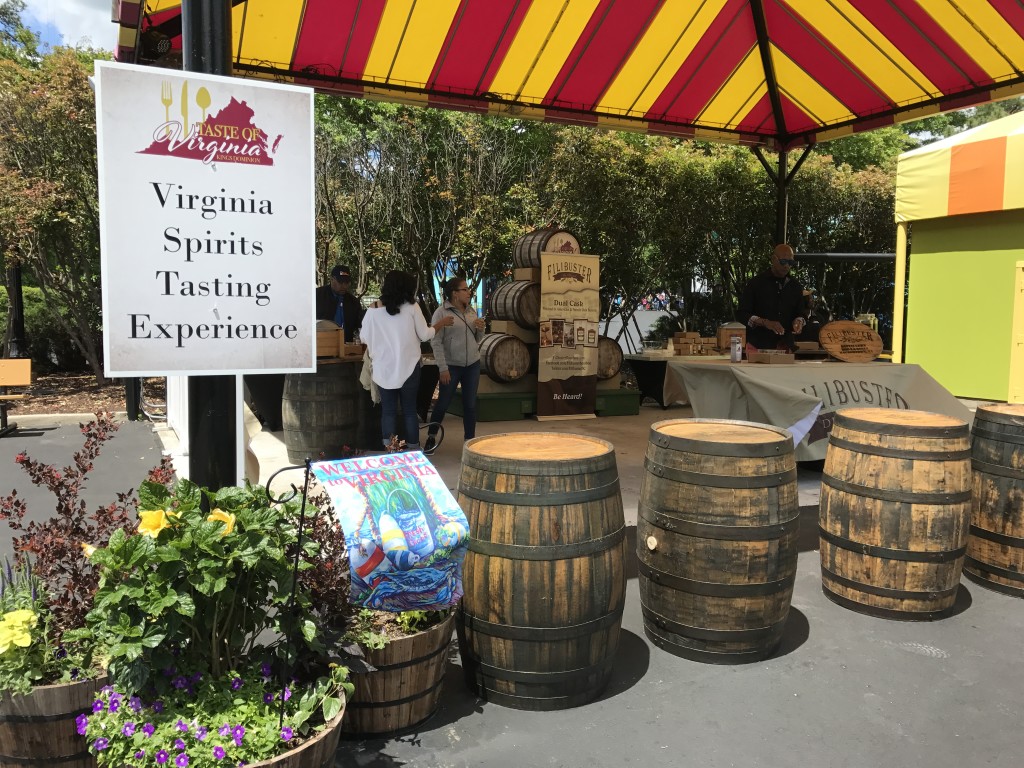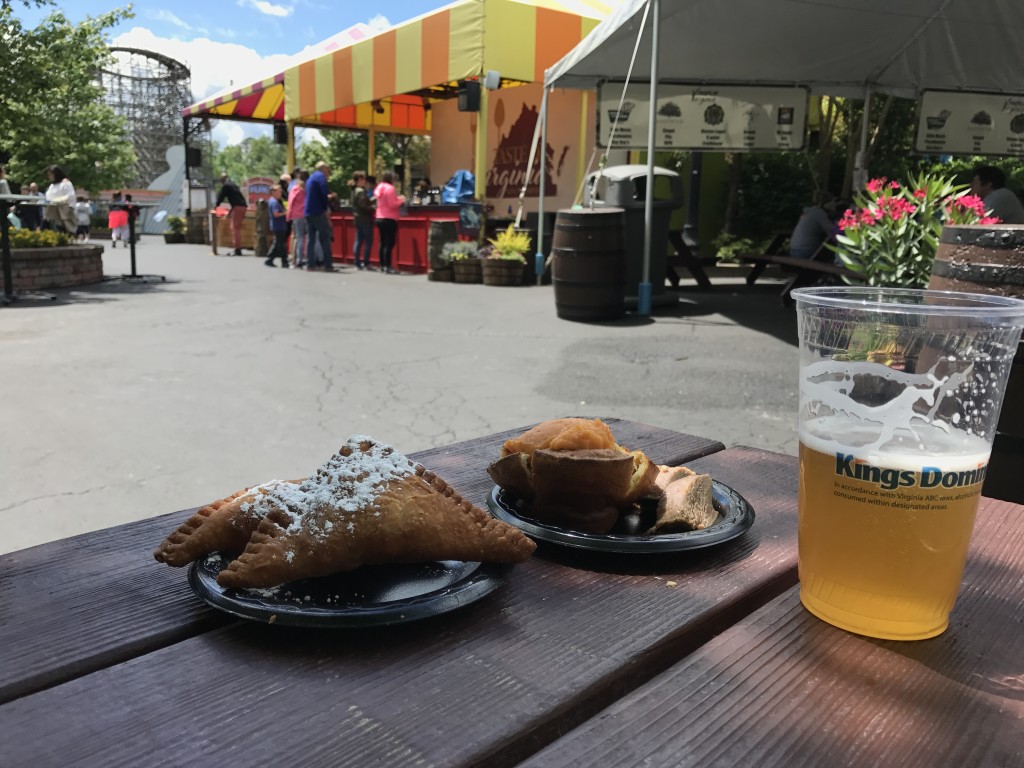 4. Live, Local Bands
While you are enjoying the food and drinks, kick back and enjoy some great tunes! Local bands give the Taste of Virginia event a fun, festival vibe. Groove to the tunes of some of the best local musicians including the Pat Russell Trio, Red Light Rodeo, Moonshine Society, Stonebrook, Dalton Dash Trio, and Roxbury.
5. The Best Amusement Park in Virginia
This may sound obvious, but if you are enjoying the Taste of Virginia event, you get to also enjoy all the fun rides and attractions inside Kings Dominion! They boast not just high-speed roller coasters and thrill rides for adults, but also plenty of kids rides and attractions including the largest Peanuts themed children's area in the world, and of course their signature replica (1/3 size) of the Eiffel Tower. So many fun things to experience for guests of all ages!
My family and I enjoyed attending Taste of Virginia during its opening weekend at Kings Dominion. Be sure to catch it the next few weekends in May before its gone for good! Your tastebuds will thank you!
Disclosure: This post is sponsored by Cedar Fair Entertainment Company in conjunction with Blog Meets Brand, and I have been compensated for my participation. All opinions are my own.