It's already late August and college students are getting settled back on campus and starting classes for the new school year.
This weekend I stopped by Fox 5 Morning News in DC to share some unique products and services perfect for this time of year when students head back to college.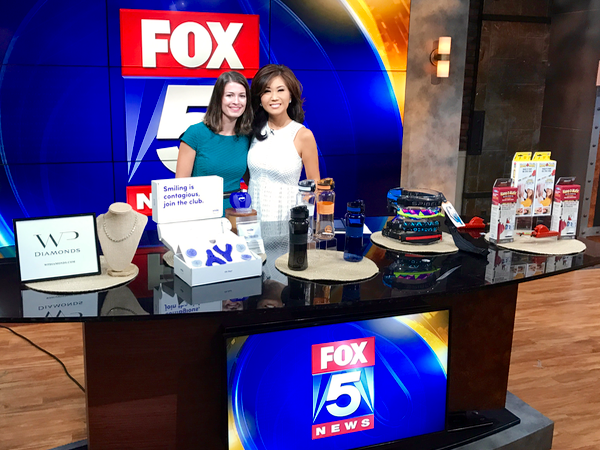 Here's what I shared:
1. WP Diamonds 
College is expensive. If you're looking to gain some extra cash, I recommend going through your house, clearing your clutter and selling unwanted items, especially valuable items that are taking up room and not being used. If you have diamond jewelry, designer jewelry, estate jewelry, or luxury watches you no longer want, consider selling them online at WP Diamonds, the #1 purchaser of recycled diamonds. The whole process is quick, easy, and happens online through their insured, certified, and widely recognized service.
Website: WPDiamonds.com
2. Smile Direct Club
Students want to look their best and attain a straighter and whiter smile. Smile Direct Club is the perfect solution to avoid the hassle of braces and in-office dentist visits, plus it can save you up to 60% compared to other options. With an in-home kit you take your own impressions or you can schedule a 3D scan at the DC Smile Shop located at 1875 Connecticut Ave NW, Washington, DC. Then a dental professional creates your treatment plan and you receive convenient monthly deliveries of invisible aligners and premium whitening, delivered right to your doorstep or dorm room.
Website: SmileDirectClub.com
3. Ion8 Water Bottle
College students need a reliable and leak-proof water bottle for all the walking they'll be doing on campus. Ion8 has an award-winning design, is 100% leak-proof with a one-touch flip top and secure lid lock. The bottle has fast flow for rapid hydration, is BPA free and dishwasher safe.
Cost: $21
Available at: Amazon
Website: Ion8.co.uk
4. SPIbelt
For college students who love to work out, the SPIbelt is the perfect accessory when you need to bring a small personal item (S.P.I.) along. Whether students need to bring their student id, dorm key, or smart phone with them on a jog or to the gym, the SPIbelt expands to hold most small objects or smart phones, and is comfortable, low-profile, and bounce-free.
Cost: Starting at $19.99
Available at: spibelt.com and specialty retailers.
5. Hang-o-matic  
Is your college student decorating their apartment? Or perhaps you're a professor hanging items in your classroom or office? Easily measure, level, and mark in one easy step to hang pictures and wall decor like a pro with the Hang-o-matic. Created by a husband and wife team, the Hang-o-matic has a built-in-leveler and metal pointers that let you know exactly where nails need to go.
Cost: $14.99
Available at: Bed Bath & Beyond, Hangomatic.com, and other retailers.
Website: Hangomatic.com
Check out the clip from my segment here!