Picture this: an award-winning design team swoops in to makeover a home in Potomac, Maryland. I'm not talking about an HGTV show, rather, DC's highly anticipated DC Design House benefitting Children's National Health System.
If you're not familiar with the DC Design House, it is an annual fundraising event that showcases the top talent in residential design. The Washington DC area's top designers apply with a proposed design, and this year 23 designers were selected to redesign rooms in a stately, 27,000+ square foot mansion in Potomac, Maryland.

If you are a design nut and love to tour beautiful homes, or find you are constantly flipping through home design magazines and religiously watching HGTV, then the DC Design House is the perfect event for you!
Here are my top ten reasons you should buy tickets to this year's DC Design House.
Event: 2017 DC Design House Tour
Address: 9004 Congressional Court, Potomac, MD 20854
Dates: Saturday, September 30, 2017 – Sunday, October 29, 2017
Tickets: $35 per person. Purchase at the door or online (extra $2.92 Eventbrite processing fee).
10 Reasons to visit the DC Design House
1. See 23 design perspectives.
How often do you have the chance to see an entire house transformed with the unique design perspective of over 20 interior designers? This "flowing design home" showcases 23 distinctly designed spaces.
2. Explore work by DC's top designers under one roof.
Get a glimpse of the most recent work from DC's brightest, design talent. Instead of seeing an entire home created by one designer, see some of the top designers' work displayed in one house.
3. Discover new design trends.
Want to see the hottest hues and daring decor trends on the rise? DC Design House features some of the latest trends taking the home design scene by storm. For example, J. Allen from Perceptions Interiors used Sherwin Williams "Greenblack SW6994" for the wall color of "The Lounge" noting that black shades are being heralded as the "it" hue for 2018.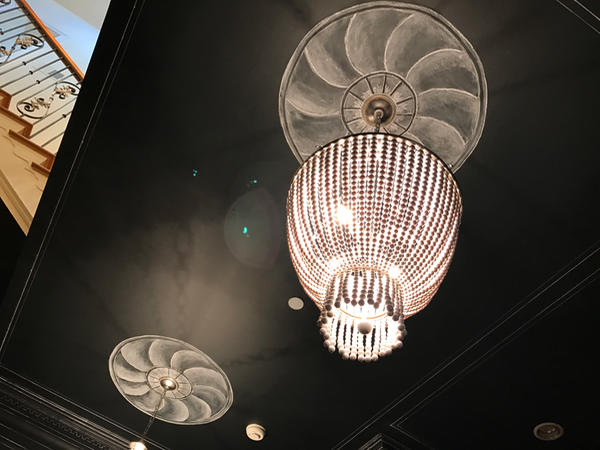 4. See fine (and funky) pieces of art. 
The artwork peppered throughout the DC Design House is quite impressive! You'll see everything from framed photographs of natural beauty captured in local forests and regal oils paintings, to elegant framed scarves and whimsical sculptures of a Charms Blow Pop and presidents being pied. Fine art with a twist!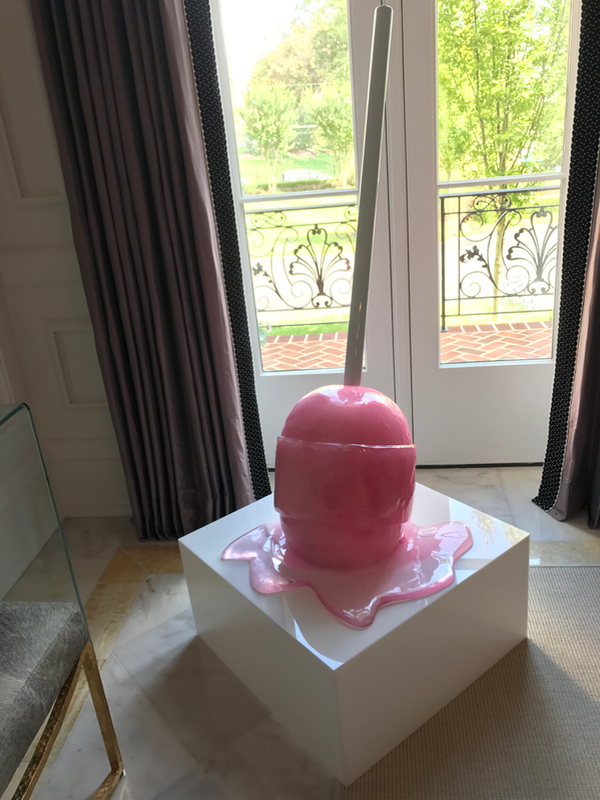 5. See designers take risks.
I might be a little timid to deploy some of these edgy design trends in my own home, but I must admit, I enjoy seeing bold and striking designs incorporated into rooms by design pros. It definitely didn't feel like the designers played it safe. Since they are not designing a room for a particular client (the DC Design House is currently listed for sale), the designers had freedom to take extra risks and design exactly how they pleased.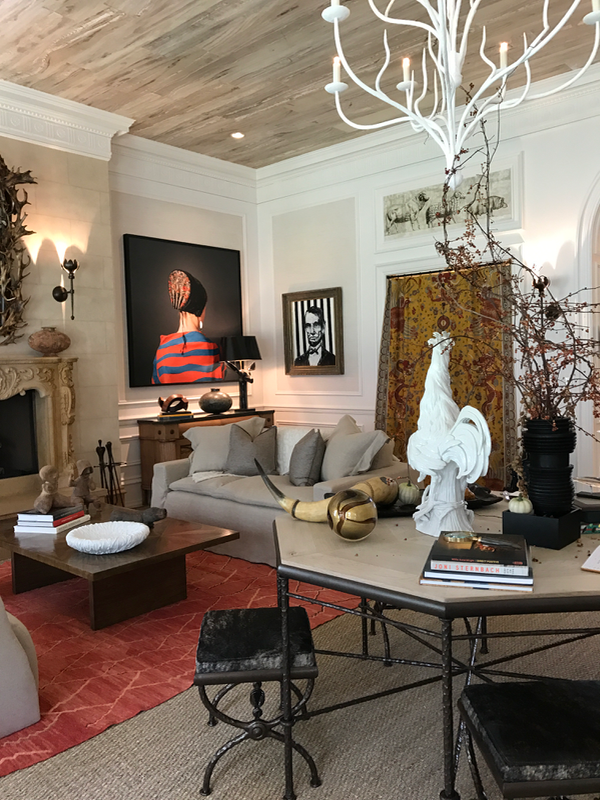 6. Explore your design aesthetic.
Looking through the DC Design House you have the unique option to explore different design styles and view influences from different eras. This can be a great opportunity to hone in on your personal design aesthetic.
7. Get inspired. 
If you have been wanting to elevate the decor in a room or perhaps take on a complete makeover, the DC Design House offers fresh and bold design ideas. For me, it was inspiring to examine a room and all the elements, colors, textures, and statement pieces that a designer weaved together. I do not have a designer's eye, so I get my inspiration from seeing what the pros have assembled.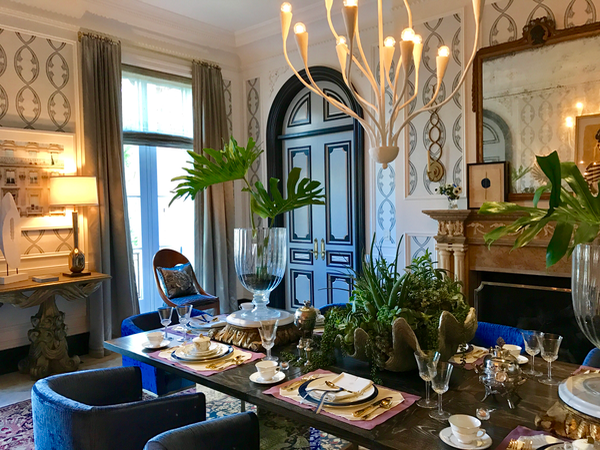 8. Plan your dream house. 
You don't live in a mansion? No problem. Live vicariously while strolling through the rooms of this grand home and start planning out elements you'd want to incorporate into your dream house. You'll definitely want to reference Marika Meyer Interior's beautiful Lady's Retreat room and pin that to your "Dream House" Pinterest Board!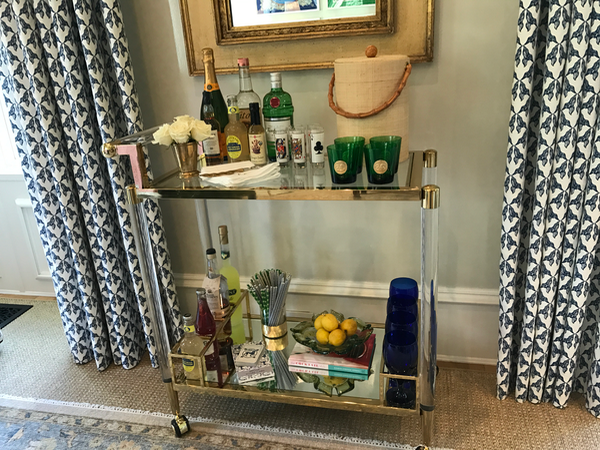 9. Celebrate the DC Design House 10th anniversary.
Come support this special event and the decade-long work this non-profit has done. This year marks a milestone in DC home design and charitable work as they celebrate the tenth anniversary of the DC Design House.
10. Support a great cause.
Visit the DC Design House to support and transform the lives of children and families here near our nation's capital. Proceeds from the DC Design House benefit the Children's National Health System. In the past decade they have raised over $1,750,000 for Children's National!
Be sure to buy tickets and support this great cause before the doors close at the end of October!
About DC Design House:
The Washington, DC Design House, a 501(c)3 nonprofit entity, began in 2008 as a unique design show house event for the DC Metro area in which top area designers showcased their talents into a "flowing design home" to raise funds for a local charity. What began as a single event goal to raise funds for Children's National Health System, formerly Children's National Medical Center, has developed into the region's foremost annual residential design attraction and as a leading annual fundraiser event for Children's National Health System. Established by business partners and husband-and-wife founders Skip and Debbie Singleton, Principals of DC Living Real Estate, LLC, in partnership with an all volunteer team of sponsors, organizers, regional media, design industry manufacturers and some of the nation's most awarded and widely recognized designers, the DC Design House has quickly earned a following with more than 75,000 visitors and more than $1,750,000 raised for Children's National Health System. Visit DCDesignHouse.com to find out more.