Tis the season for giving! You likely have a list of friends and family for your holiday shopping, so why not partake in a growing trend of purchasing gifts that give back to charitable causes? Earlier today I stopped by the set of Good Morning Washington to share some of my favorite holiday gifts that give back.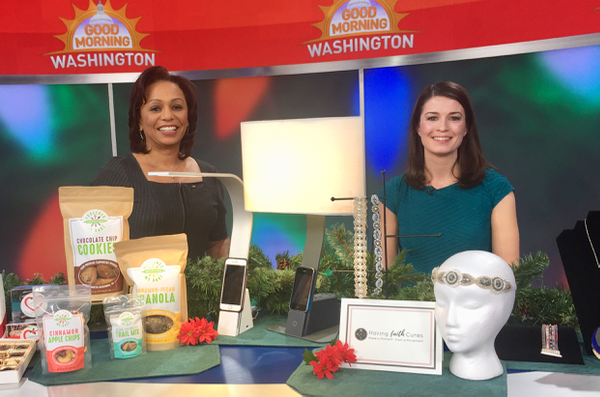 1. Cameron's Coffee & Chocolates
Every1CanWork.com
Cameron's Coffee & Chocolates is a non-profit foundation on a mission to provide the freshest and finest chocolates while offering meaningful employment to adults with intellectual disabilities. Northern VA residents Ellen & Jim Graham were inspired to start this thanks to their daughter Cameron.
Over 84% of young adults with cognitive disabilities are unemployed, but not unemployable – there is a big difference. Cameron's Coffee & Chocolates is making a huge impact in our community and opened the doors of their Fairfax, VA store 4 years ago. They sell coffee, chocolate, baked goods, and confectioneries. They are known for selling Extraordinary Chocolates made by Extraordinary People! Be sure to visit their shop located at 9639 Fairfax Blvd, Fairfax, VA 22030.
Products displayed on TV:
Hand-dipped Belgian chocolates made in-shop. 16-Piece Box ($20).
Seasonal chocolate bark ($9.95) — Peppermint bark as well as other novel barks with toasted pumpkin seeds, crystallized ginger, orange, and toasted almond.
2. Together We Bake
TogetherWeBake.org
Together We Bake provides workforce training and personal development programs for women in need of a second chance. They help women gain self-confidence, transferable workforce skills, and invaluable hands-on experience, which will allow them to find employment and move toward self-sufficiency. Headquartered in Alexandria, VA, Together We Bake was co-founded by local residents Stephanie Wright and Tricia Sabatini who combined their passions for social work and baking. You can purchase their delicious baked goods at the Del Ray Farmer's Market, Crystal City Farmer's Market, and select DC-area retailers or shop online at Shop.TogetherWeBake.org.
Products displayed on TV:
Sample pack ($35) — Includes Chocolate Chip Cookies, Cinnamon Pecan Granola, Cinnamon Apple Chips, and Vegan Gluten Free Trail Mix.
3. LUX LED Lighting
Store.LuxLEDLights.com
Fashionable, functional, and energy-efficient LED light lamps for home and the office. These modern and sleek lamps feature USB charging ports and three touch activated brightness options.
The Brooklyn Collection is the understated modern lamp designed to last, and great for your home or office. The lamps feature a touch-activated power button with three brightness levels. They are designed to hold your smartphone or tablet with 2 USB charging ports on either side. The Brooklyn Desk lamp also features two universal AC sockets for added convenience.
During the holiday season (through Dec. 26) for every LUX LED light sold, they are donating a solar light to someone in need through Unite To Light.
For each LUX LED Lighting product sold through December 26th, they are donating a solar lamp to Unite To Light.
Products displayed on TV:
LUX Brooklyn USB LED Task Light ($169.99 + free shipping).
LUX Brooklyn LED Desk Light ($249.99 + free shipping).
4. Having Faith Cures headbands
HavingFaithCures.com
Having Faith Cures was launched in 2016, after teenager and former Northern Virginia resident Grace O'Hara became became chronically ill. During her hospital stays, she would wear her own headband creations which made her feel more confident in the way she looked even after the physical changes that had resulted from her treatments. At one of her stays at Children's National Hospital in DC, she was asked if she wanted to give out her headbands to other kids in the hospital. She began creating handmade headbands and praying for sick and suffering children, which led to her starting her non-profit Having Faith Cures.
For each headband sold, one is donated to a child with a life-altering illness and a portion of the proceeds sponsor Mirriam through Every Orphan's Hope in Zambia, Africa. Having Faith Cures has sent over 200 headbands through a local organization, Team Mathias, which sends care packages to children with cancer and their siblings. They have also partnered with Global Belief Project to help repair broken wells in Uganda and spread the word of Jesus.
Products displayed on TV:
Aria White & Grey Oval Jewel ($14.95)
Camille Pearl Double Lace ($15.95) — Named after 3x Osteosarcoma (bone cancer) fighter, Camille who received this headband after one of her lung surgeries earlier this year.
Abriel Jewel Flower ($18.95) —  Named after Ewing Sarcoma (bone cancer) & Amputee Survivor, Abriel who received headbands from use shortly after remission last year before Christmas, and last week after her amputation.
5. Noonday Collection
NoondayCollection.com
The Noonday Collection partners with artisans around the world to provide dignified jobs with fair wages for people in vulnerable areas and to provide jobs for women here in the US. Local Noonday ambassador, Amanda Deaton lent me some of her unique jewelry collection pieces to display during my segment.
Products displayed on TV:
Silver Droplet Necklace ($36) — made from upcycled artillery in Ethiopia from women who were formerly in prostitution and now can work the dignified job of jewelry making.
Cobalt Feathered Fringe Earrings ($34) — handmade in India in workshops where women are often leaders and girls are offered scholarships to go to school.
Woven Dreams Bracelet ($54) — made by a group in Guatemala led by Cristobal who encourages the women in his workshop to set up bank accounts not only so they can get paid, but also so they can establish credit.
Watch my "Holiday Gifts That Give Back" video clip below:

Additional gifts that give back
I wish I could have included even more gifts in my segment! Although these weren't shared on-air, here are a few more gifts that give back:
6. American Heart Association Hand-painted Heart Ornament
Heart.org/HandprintsWithHeart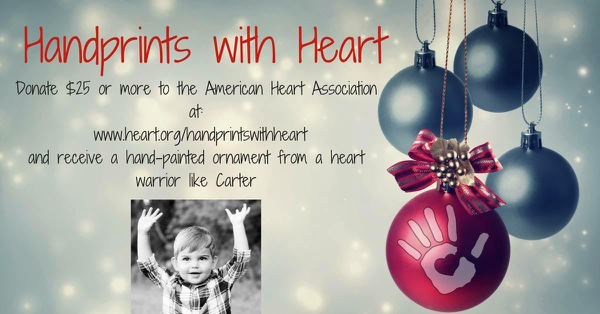 Handprints with Heart is a holiday giving campaign that began Monday December 4th and goes until Friday December 15th. You can receive this beautiful ornament simply by donating $25 or more to the American Heart Association of Greater Maryland: Heart.org/HandprintsWithHeart
To thank you for your donation you will receive a hand-painted ornament from a heart warrior, such as 3 year old Carter from Harford County, Maryland.
In case you didn't know, Congenital Heart Defects (CHD) are the number one defect babies are born with. Out of 1,000 babies born, 8 will be born with a CHD. The Handprints with Heart campaign will raise life-saving funds and awareness for CHD. Local children, who are living with CHD's are coming together on Thursday December 7th to paint ornaments as a thank you to those who donate – these ornaments will he accompanied with a note about the heart warrior who made the ornament.
7. Tipsy Elves
TipsyElves.com
This fun, ugly Christmas sweater company was featured on ABC's Shark Tank in December 2013. They make the most outrageous clothes known to mankind in order to make your life more fun. For every sweater purchased they donate a warm hoodie to children in need through Save The Children.
8. Bombas Socks
Bombas.com
Bombas reengineered the standard, boring tube sock to create a unique sock that offers comfort, support, and softness. The company started in 2013 after the founders, David Heath and Randy Goldberg, learned socks are the number one more requested clothing items in homeless shelters. They decided to create high-quality, comfortable socks and for every pair of socks purchased, Bombas donates a pair to the homeless and those in need. To date, Bombas has donated 5+ million pairs of socks to those in need.
For even more ways to give back while doing your holiday shopping, check out my 2016 TV segment "Shop For Loved Ones While Giving Back."