Share the post "Discounts for ICE! at the Gaylord National in National Harbor MD"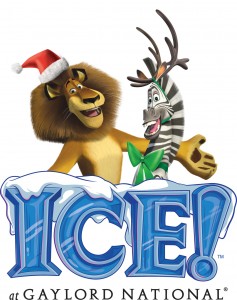 Looking for 2013 coupon codes and discounts to Gaylord ICE!? Click here for the latest offers.
I love all things Christmas-y and wintery-fun family activities, so I was very excited to get the chance to take my family to ICE! at the Gaylord National in National Harbor, MD last week. And let me tell you: it lives up to the hype!
In case you're unfamiliar with ICE! – it's a special winter holiday attraction here in the DC metro area and is a part of the Christmas on the Potomac celebration. The 15,000 square-foot, indoor wonderland is carved entirely out of ice by dozens of artists and ice sculptors from Harbin, China. They use almost 2 million pounds of ice to create the ICE! attraction and the whole process takes an entire month to transform the refrigerated tent right next to the Gaylord Hotel, into the final spectacle. This year's theme is "Merry Madagascar" based on the Dreamworks' animated holiday special, featuring the lovable characters from the Madagascar movies, Alex, Marty, Gloria, Melman, King Julien and the wacky penguins, on a mission to help Santa. Also, near the end of the exhibit, there is a huge nativity scene carved out of ice with a recorded message on the first Christmas that took place when Jesus Christ was born in a lowly manger some 2,000 years ago. That was an unexpected plus to hear about the reason for the season!
My family and I were impressed at the intricate detail and bold colors in the ICE! displays and slides. Oh, and the big kid in me was excited that the ice slides aren't just for the kids, adults can slide too!
The 2011-2012 ICE! extravaganza is open through January 8th, 2012 and is a wonderful experience for the entire family!
Here are some practical tips I have if you and your family want to go experience the magic at ICE! first-hand:
Don't forget to wear warm clothes, including your scarf, gloves, etc. The indoor ICE! attraction is maintained at a temperature of only nine degrees. Brrr! They do provide blue, outer coats for all guests to wear, but I still suggest you wear your own coat underneath that, because it is so cold!
Wear comfortable shoes! Boots or sneakers work best. Ladies who wear high heels can't go down the slides (go for function instead of fashion when you go!).
Plan out your trip during non-peak hours when there will be less crowds.
Plan the potty breaks! There are nice portable restrooms (heated with sinks and full-running water) located just outside of the ICE! Pavilion, in the parking lot, about 30-feet away from the tent, to the left of the exit doors. Be sure to use the restroom before entering ICE! as there are no restrooms inside and once you exit the refrigerated tent area, you are not allowed to re-enter the attraction (this is to avoid overcrowding). However you can re-enter the ICE! Pavilion unrefrigerated area that has the ice skating rink, the Potomac Express Train, merchandise shop, etc. – which are open and accessible all day long.
How to Save Money at ICE!:
Children 3 and under are free!
*HOT DEAL* Available for the next 6 days, you can buy discounted tickets through Living Social! Just click on the "Families" tab and you'll see the deal for $12 kid tickets and $17 adult tickets. Not valid on Saturdays or Blackout dates (including 12/23/11 to 1/1/12) Other conditions apply. Expires on January 8, 2012. Limit one per person, per visit.
Go during non-peak days to save on general admission (regular adult tickets are $25 versus $35 on peak days). Ticket prices are lower on Mondays-Thursdays and they're slightly more expensive on Fridays and the weekends.
Discounted tickets available everyday for Seniors, Military or Groups of 20+.
Heroes Weeks (for Military & First Responders): December 5-8 and December 12-15, 2011. Adult ICE! tickets only $15* with valid Military ID! Call 301-965-4000 and refer to code ICEHERO (* does not include tax or handling fees).
Educator Weeks: December 5-8 and December 12-15, 2011. Adult ICE! tickets only $15* with valid Educator ID! Call 301-965-4000 and refer to code ICETEACH (* does not include tax or handling fees).
Go on Tues. Dec. 13th for the "Toys for Tots Tuesday" and bring 1 new toy to get 1 free VIP Pass ($15 value)! The VIP Pass is in addition to your ICE! ticket (you'll still need to buy a regular admission) and means you will bypass the general admission line to enter ICE! Plus you'll get one (1) cup of hot chocolate and (1) chance to meet the infamous Penguins of Madagascar for free! Be sure to bring 1 toy per person so that your whole family can qualify for the free VIP pass!
Receive an exclusive discount of $3 off every ICE! Adult Ticket (ages 13+) and $2 off every ICE! Kid's ticket (ages 4-12), valid for all "Non-Peak" Monday through Thursday show dates: Nov. 21-24, Nov. 28-Dec. 1, Dec. 5-8, Dec. 12-15 and Jan. 2-5.  The regular priced "Non-Peak" Adult Ticket is $25 (so you'll pay only $22), and the regular-price "Non-Peak" Kid's Ticket is $20 (so you'll pay only $18). To view their schedule and hours that ICE! will be open, click here. Children ages 3 and under are free. Call 301-965-4000 and mention code "MEDIA11" to purchase by phone. Or use code "MEDIA11" as the discount code to purchase online.  (The discount will automatically appear whenever a "Non-Peak" show date is selected.) *Not valid for walk-up (onsite) ICE! ticket purchases, or for Senior, Military or Group discounts. Cannot be combined with any other offers.
You are free to bring in an outside small snack or beverage in your purse or a small container, however, they do not allow larger coolers or outside food and beverage to be brought in to the ICE! Pavilion or hotel to be enjoyed "picnic-style." If you decide you want to have a family picnic, leave the cooler in your car to enjoy after you've finished your ICE! experience.
Also, there are other expenses that you should keep in mind when budgeting this family excursion:
Parking garage fee at the Gaylord National Hotel for $10 (Be sure to bring your parking confirmation to the ICE! tent to redeem your parking voucher. We didn't do this and ended up paying more. Oops!)
Fees for Hot Chocolate ($3.50) and other food and beverages in the ICE! Pavilion once you leave the ICE! Sculpture area.
Fees for Ice Skating and riding the Potomac Express Train ($2 per train ride) *my son loved the train ride!
As you exit, you are directed through the Gift Shop. If your kids are the ones who grab things or whine to buy things, just prepare yourself (either have a price limit or something lined up like "we're not buying anything from the gift shop today, but to end this fun day we will go home and bake special Christmas cookies" and stick to your guns).
Have you been to ICE! at the Gaylord National? If so, please leave a comment and let me know what you enjoyed most!
And on a random/15-seconds-of-fame note: Chris Gordon and the NBC Washington News Channel 4 crew showed up while we were there and ended up filming and interviewing our family. Random! You can click here to see the article and video clip.
Disclosure: I was provided complimentary admission tickets for my family and I to enjoy and experience ICE! at the Gaylord National. I love sharing fun, wintery, family activities here in the DC area. The opinions shared in this post are my own. Affiliate links are also included in this post. To read my full disclosure policy, please click here.