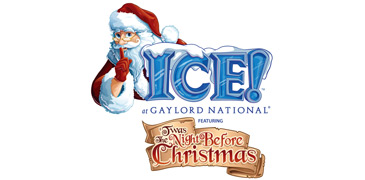 Looking for discounted tickets and coupon codes for Gaylord ICE!? There are a few ways to save, which I'm excited to share with you:
Children 2 and under have free admission.
Use coupon code "MRICE13" to save 20% off tickets for Marriott Rewards Members. Valid November 14 – December 16, 2013, excluding all Saturdays, November 29 and December 1.
Use coupon code "PFAN13" for Pepsi Fan Club Members to receive $4 off tickets on select, non-peak dates. More info here.
Use coupon code "SOCIALMOM13" to get $3 off tickets on non-peak days on select dates November 15 – January 5.
Use coupon code "207ICE" for military discount for $5 off adult tickets on non-peak dates, $4 off adult tickets on peak days, $4 off child tickets on non-peak days, and $2 off child tickets on peak days (certain restrictions apply). Must present military ID at the box office.
Use coupon code "FLR13" for Florida Residents to get $4 off tickets on select non-peak dates.
Use coupon code "CCCFE" for CFE Federal Credit Union employees and members to receive up to $8 off tickets. Proof of employment or membership with CFE Federal Credit Union required upon entering ICE! Valid on select non-peak dates. This discount may only be available at Gaylord Palms in Kissimmee, FL. More info here.
Hero Night: 50% off admission for employees of federal, state and local law enforcement agencies, fire departments, and emergency medical services and up to 4 family members. Valid only on Mon. Nov. 18 & 25, Dec. 2 & 9 from 1pm – 8pm only. Use coupon code "HERO" when purchasing tickets. Valid employment ID must be shown at the box office when you pick up your tickets.
Keep an eye out for deals and discount offers on Living Social & other daily deal sites. Living Social has an expired deal for up to 50% off ticket that was offered earlier this month.
I'll be updating this post as I find out about additional discount nights and coupon codes!
If you're interested in reading more about my experience at ICE! last year and some extra tips on what to wear and what to expect, visit my blog post on ICE! at the Gaylord National last year.
Beltway Bargain Mom Tips to making the most of your visit to ICE!:
Go during non-peak hours. That way you can avoid large crowds and the price for admission will be less.
Dress Warm. It is only nine degrees in the ICE! area so I bring my scarf, gloves and hat. The Gaylord National does provide a blue, outer coat for all guests to wear, but I still suggest you wear your own coat underneath that, because it is extremely cold inside!
Wear comfortable shoes. Boots or sneakers are great, and ladies who show up wearing high heels are not permitted to go down the slides.
Plan the potty breaks. Be sure to use the restroom before entering ICE! as there are no restrooms inside and once you exit the refrigerated tent area, you are not allowed to re-enter the attraction (this is to avoid overcrowding).
Look for discount parking. I recommend finding street parking or using a garage in another part of the National Harbor shopping district. The signs for "discount ICE! parking" actually lead you to a parking garage connected to the Gaylord National that is more expensive (starting at $10 per hour) than other nearby options, within reasonable walking distance of ICE!
*Please note, Beltway Bargain Mom does not assume liability for any expired coupon codes. I do my best to keep this list up-to-date and accurate, but can not guarantee that any of the coupon codes will expire or change. If you find something is inaccurate, please leave a comment so I can update this post, and try another coupon code or way to save listed above. Thanks!