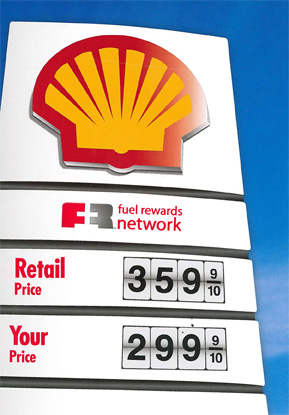 Sorry for the delay in announcing the winners of my most recent giveaway. Congrats to Kamber, Rachel, Ratasha & Julie who were randomly selected as the winners of 1 FRN card pre-loaded with $2.50 per gallon savings (good for up to 20 gallons on a one-time use). Winners, please check your inbox for an email from me to confirm your mailing address!
For those who didn't win, remember, the Fuel Rewards Network program is FREE – just pick up a Fuel Rewards Network Card at a participating Shell station, then activate it online at fuelrewards.com or via the Fuel Rewards Network iPhone or Android Apps to start earning rewards to save at the pump. And what's exciting is you can COMBINE the savings from Giant Gas Rewards (earned by shopping at your local Giant grocery store) and the Fuel Rewards Network savings at the pump! All you would have to do is first slide your Giant Card to redeem your savings with that program, then swipe your FRN Card to redeem your savings with that program. One more step, but potentially huge savings at the pump for you!
Thanks everyone for entering and be on the lookout for another giveaway (something fun for the kids….) soon!