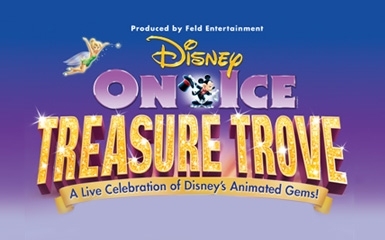 Coming up this Tuesday, January 8, 2013, the 1st Mariner box office in Baltimore, Maryland is selling $1 tickets to Disney On Ice Treasure Trove! This is limited to in-person purchases at the 1st Mariner box office (201 W Baltimore St, Baltimore, MD 21201) starting at 10 am, and applies to the first 450 tickets sold. Don't forget, as I shared earlier, the same $1 Discounted Disney On Ice Ticket deal is available in DC at the Verizon Center box office for the first 1,000 tickets purchased that same day! 
Charm City performances will run Feb. 6-10, 2013.
Get tangled up in Disney's 50th animated feature with Rapunzel and Flynn and enter the worlds of your other favorite Disney princesses – Tiana, Cinderella, Jasmine, Pocahontas, Ariel, Sleeping Beauty, Belle, Mulan and of course, the one that started it all, Snow White. Ahoy, Mateys! Set sail with Peter Pan, the always sassy Tinker Bell and the cantankerous Captain Hook & his pirate pals on an adventure beyond Neverland! Trek the wilds of Africa with Simba, Nala, Pumbaa and Timon as they discover the true meaning of the 'Circle of Life.' Tick-Tock! Tick-Tock! Don't be late for a very important date with Alice and the Madhatter as they march with the Queen of Hearts' Army Of Cards.
*UPDATE* I have been told that there is a limit of up to 6 (six) $1 tickets each person can purchase this Tuesday. Also, apparently the $1 ticket offers are limited to certain seats/sections, but I have not been able to confirm exactly which sections yet with Disney On Ice.
This is an amazing deal! Regular ticket prices for this Disney On Ice show start at $15 and go all the way up to $60 for front row seats. Disney fans near Baltimore should get in line early Tuesday to snag their one dollar tickets!
Performance dates for Disney On Ice Treasure Trove at the 1st Mariner are:
Wednesday, February 6th @ 7:30 pm
Thursday, February 7th @ 7:30 pm
Friday, February 8th @ 10:30 am & 7:30 pm
Saturday, February 9th @ 11 am, 2:30 pm & 6:30 pm
Sunday, February 10th @ 12 pm & 4 pm
If you get in line this Tuesday for your $1 ticket and don't get one of the first 450 tickets, you'll be offered a $5 savings on tickets to any performance.
Please note the $1 ticket deal is one-day only, in person at the 1st Mariner Box Office, while supplies last, with all Disney On Ice discount ticket sales ending at 5:30 pm for that day.
Thanks Frugal Family Fun!