Share the post "See Atlanta Art for Free: Save Money On Museums + Public Art"
Atlanta, Georgia is a beautiful city and popular travel destination of the Southeast, but did you realize that it is a treasure trove of artwork and public art displays?
During the inaugural Social Influencers Travel Summit (SITSum) hosted by Discover Atlanta, I departed my home near Washington DC's Beltway to explore the arts in the Atlanta BeltLine.
Atlanta Tourism and Art Museums
Atlanta has risen as a prominent city for the arts and has become a mecca for art lovers. Tourists and locals have a wealth of options to experience art in the city: including impressive sculptures, paintings and other art forms. The city boasts world-renowned art museums and performance centers such as the High Museum of Art, the Woodruff Arts Center, and the Michael C. Carlos Museum — Atlanta's oldest art museum located at Emory University. Additional Atlanta museums (not primarily focusing on art) house examples of folk art and historically relevant artwork of the South.
Saving Money On Atlanta Museum Tickets
For those looking to save money on admission to Atlanta museums, you'll be happy to discover that most offer discounted admission days and programs, and some even grant free admission on special days.
The Carlos Museum announced its 100 free days of admission in celebration of its upcoming centennial in 2019, which includes some Sundays or Thursdays in the years leading up to 2019, when patrons will be granted free admission into the Emory University Carlos Museum.
Everyone receives FREE admission to the High Museum of Art on the second Sunday of each month from 12:00 noon – 5:00 pm as part of Family Fun at the Woodruff Arts Center. They also hold special family-friendly programming from 1 to 4 p.m on those Sundays. You can find details on the upcoming Family Fun programs involving Atlanta and the arts on the Family Fun Woodruff Arts Center CREATE blog.
Bank of America and Merrill Lynch cardholders can receive FREE walk-up admission to the High Museum of Art on the first full weekend of each month. Discount is available only to those who can present a valid Bank of America or Merrill Lynch card and ID.
Atlanta Public Art
Atlanta has many top-notch museums, however you definitely don't want to overlook the unique artwork readily available to the whole city outdoors! The general public can see noteworthy art displays without ever needing to purchase a ticket or step inside a museum. Atlanta has a vibrant display of public art, available for all to see anytime, free of charge.
I attended a walking tour of Atlanta's public art led by the Office of Cultural Affairs. The Atlanta Public Art Tour showcased art in unexpected places, nestled in parks, planted inside plazas, and even scattered along busy highways.
Here is a compilation of my top 10 favorite public artworks in Atlanta:
Freedom Park (Moreland Ave NE, Atlanta, GA 30307)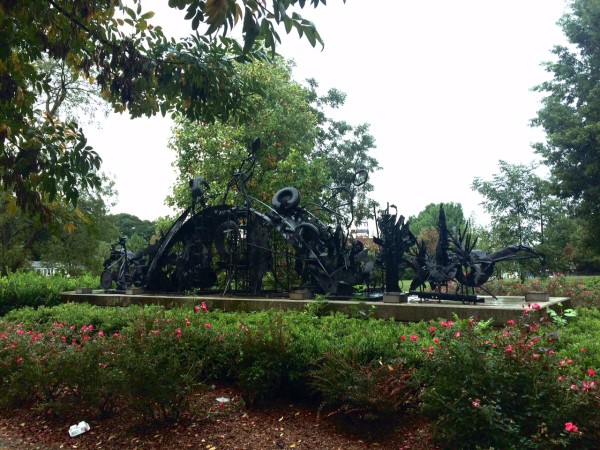 1. The Bridge
Location: John Lewis Plaza in the Virginia Highland District of Freedom Park. Corner of Ponce De Leon Ave and Freedom Pkwy. (Map)
Artist: Thornton Dial.
Materials: Tires, barrels and other objects.
Description: This piece by renowned folk artist Thornton Dial forms a bridge-like structure representing Congressman John Lewis's contributions to the Civil Rights Movement.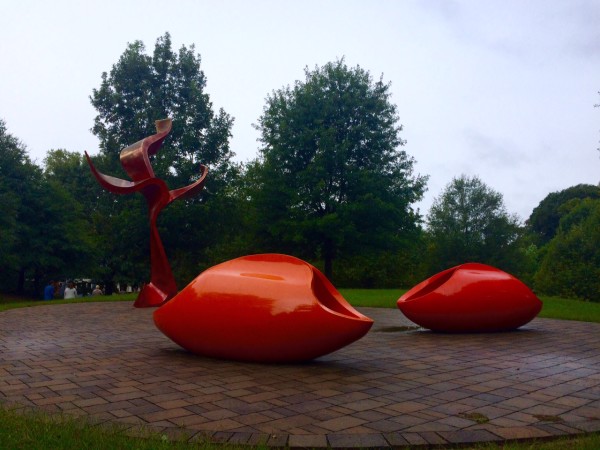 2. Tree of Life and Kan
Location: Freedom Park. East of Oakdale Rd at North Ave. (Map)
Artist: Yvonne Domenge.
Description: "Tree of Life" and "Kan" are three separate pieces created by Mexican artist Yvonne Domenge. The vibrant orange pods and red tree with shiny exteriors present a cheery and bright display, often welcoming viewers to touch and climb through the pod openings.
Intended to be viewed together, this grouping of three artworks was first a part of a major outdoor solo exhibition entitled "Interconnected" in Millennium Park in Chicago in 2010. Two years later the artist generously decided to offer each of the six public artworks to various cities across America. The City of Atlanta Office of Cultural Affairs put together a proposal to bring the artworks to Freedom Park, and was chosen by the artist and exhibition curators (Ed Ulir and Lucas Cowan) as one of several recipient cities.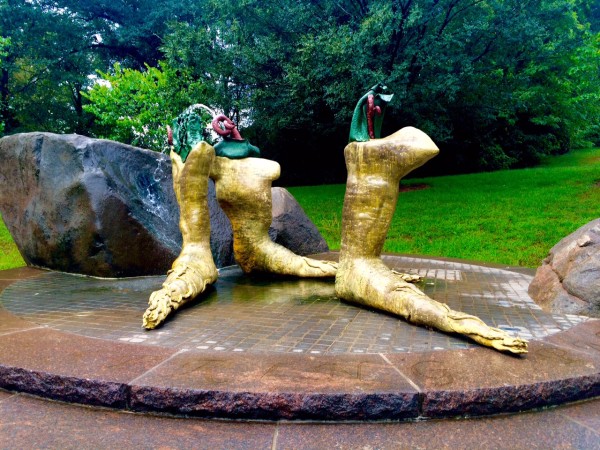 3. New Endings
Location: Freedom Park. Near intersection of Euclid Ave and North Ave. (Map)
Artist: Diane Solomon Kempler.
Materials: Rocks, Multi-part Bronze.
Description: "New Endings" by artist Diane Kempler was commissioned and installed for the Atlanta 1996 Olympic games. Are you looking at a beginning, ending or the beginning of an ending? The sculpture was constructed from 45 ton rocks and includes a water feature during the spring, summer and fall months. This is a playful and interactive artwork which also invites the viewer to reflect the duality of death and rebirth, and of the reemergence of creative life forces from destruction and decay. This piece was originally installed at Walton Spring Park, the location of the city's first public water supply. Today, at it's new location in Atlanta's Art Park in Freedom Park, water is still significant as it is located by another natural spring and ties in water.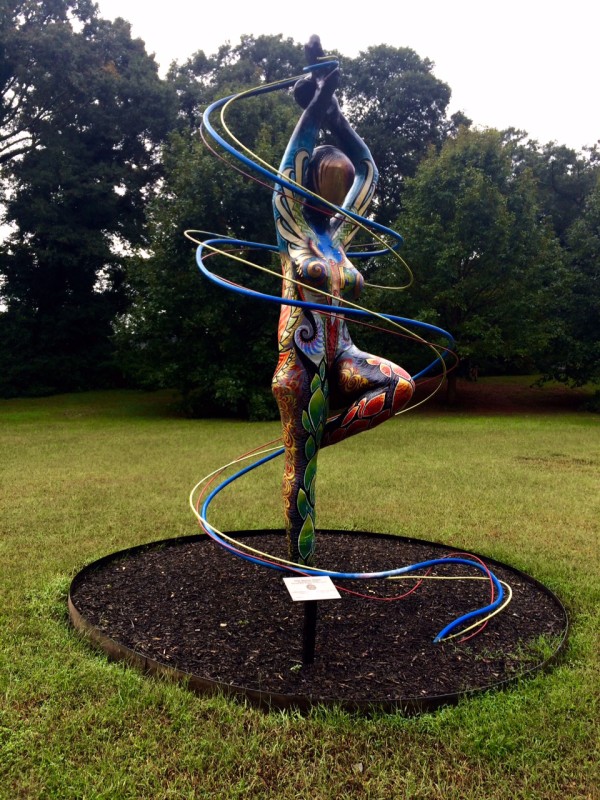 4. One Woman Rising
Location: Freedom Park. Just west of the intersection of North Ave and Euclid Ave. (Map)
Sculptor: Phil Proctor and Geo Brenick.
Painters: Scott Fray and Madelyn Greco.
Description: 12-foot tall, female figure intended to represent a woman rising in dance. The Chelko Foundation came up with the concept supporting the One Billion Rising global day of action calling for the end of violence against women and girls. They enlisted the help of sculptor Phil Proctor. "One Woman Rising" was commissioned in 2013 by The Chelko Foundation to honor the participants in Eve Ensler's first "One Billion Rising" global call. This work of art has become an internationally recognized symbol of women's empowerment.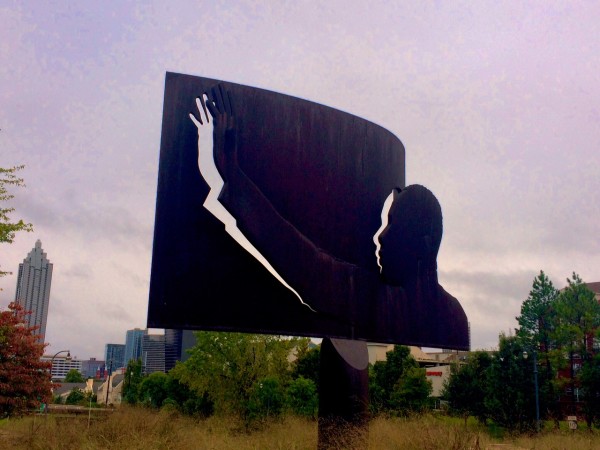 5. Homage To King
Location: Freedom Park, Old Fourth Ward District. Boulevard and Freedom Parkway. (Map)
Artist: Xavier Medina-Company
Materials: Cor-Ten Steel
Description: This sculpture represents a prominent and historical figure of Atlanta. Cut and rolled from plate steel, this profile of Dr. Martin Luther King, Jr., shows him with his arm outstretched, positioned right by the King National Historic Site at the southwest corner of Boulevard and Freedom Parkway. This piece was commissioned by the Cultural Legacy Initiative, which brought major permanent public works of art to Atlanta from Barcelona–the 1992 Summer Olympic City–as an Olympic cultural exchange. Today, the sculpture is integrated with the bicycle and pedestrian path project linking the Georgia Institute of Technology to Freedom Parkway.
Midtown, Piedmont Park (1342 Worchester Dr NE, Atlanta, GA 30306)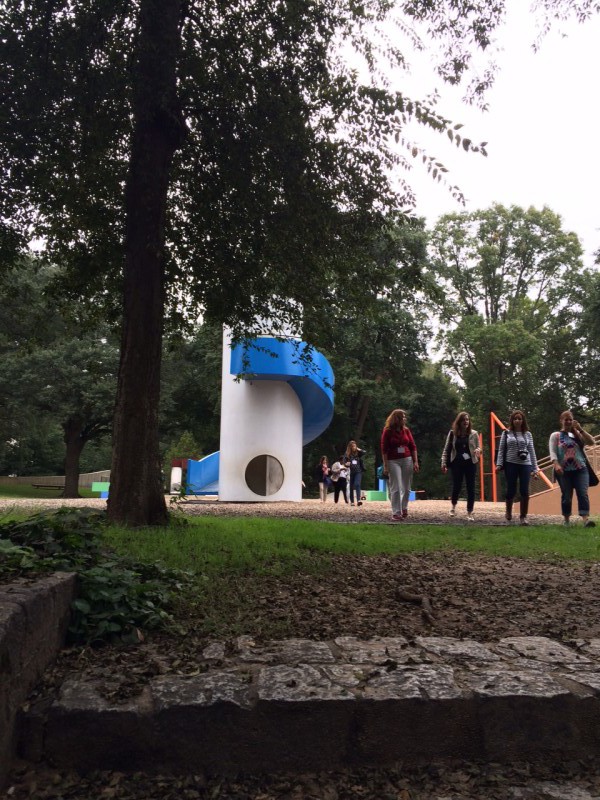 6. Noguchi Playscapes
Location: Piedmont Park. Near 12th St gate entrance of the park. (Map)
Artist: Isamu Noguchi.
Materials: Cast-concrete and steel.
Description: Located near the 12th Street Gate, the Noguchi Playscape, is a stunning playground designed by world-renowned artist and sculptor Isamu Noguchi. Funded by the High Museum and a grant from the National Endowment for the Arts, this impressive playground was completed in 1976, and is the only Noguchi-designed playground that was completed during his lifetime. Noguchi referred to his playscapes as "the sculpture of spaces", intended to make sculpture a practical and useful part of day-to-day life. Noguchi Playscapes provides ample play area for children while introducing shapes, colors, and textures to young minds.
Features in the Noguchi Playscapes include: swings, slides, climbing structures, domes, and a sand pit.
Downtown, Woodruff Park (Peachtree St NE, Atlanta, GA 30303)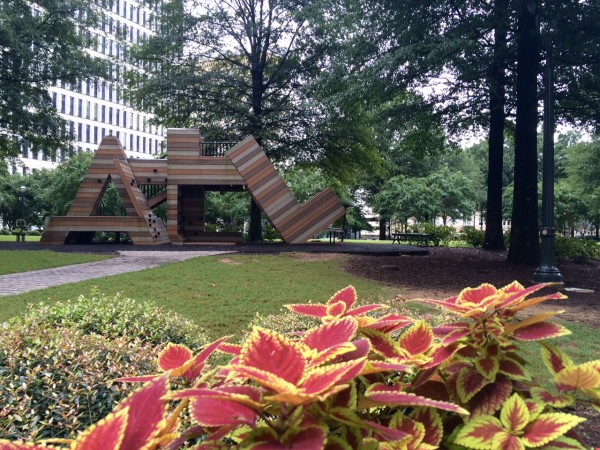 7. ATL Playground
Location: Woodruff Park. (Map)
Designer: Jeff Santos.
Engineer & Construction: Landscape Structures Inc.
Materials: Recycled materials.
Description: The "ATL Playground" functions as a kid's play area unique to Atlanta. The letters A-T-L are constructed out of wood and feature two slides, monkey bars, and climbing walls. Jeff Santos of Coquitlam, British Columbia, designed the playground as a part of a 2010 contest and today the ATL playground is a vibrant area of the Woodruff Park. "ATL" play structure features a wheelchair accessible transfer station, a squiggly climber, multiple play panels, the treehouse-inspired climbing "T", and the "L" slide.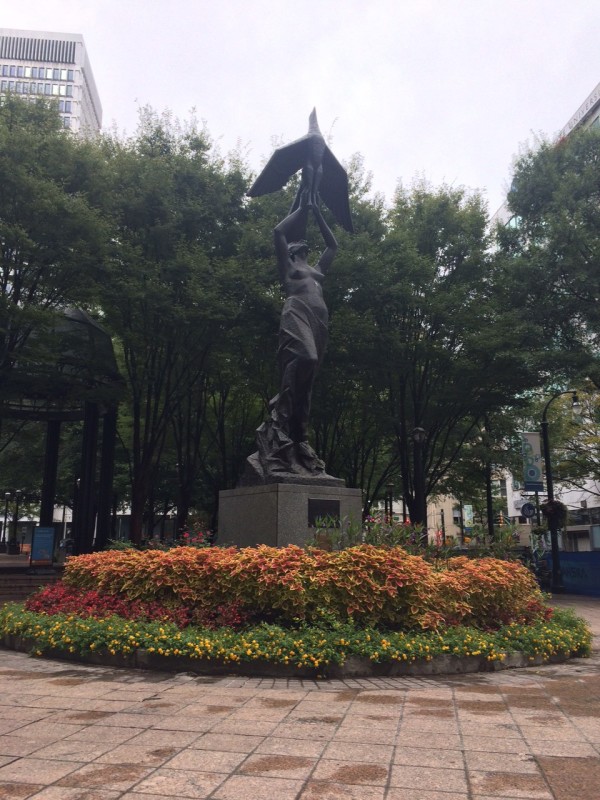 8. Atlanta From The Ashes
Location: Woodruff Park. Peachtree Street and Edgewood Avenue. (Map)
Artist: Gamba Quirino.
Designer: Jim Seigler.
Materials: Bronze, marble.
Description: "Atlanta From The Ashes" is a sculpture embodying the unofficial symbol of Atlanta, the Phoenix. This statue was commissioned in 1969 by the Rich Foundation in honor of the centennial of Atlanta's historic Rich's Department Store. The sculpture was inspired from sketch drawings of James Siegler, an employee in Rich's planning department. Later the statue was designed and cast in Italy. The sculpture is of a woman lifting the bird of hope to the heavens, who was consumed by fire and rose from the ashes.
Downtown
9. Five Points Monument
Location: Peachtree, Marietta and Decatur Streets and Edgewood Avenue. (Map)
Artist: George Beasley.
Materials: Galvanized mild steel, bronze, granite, paint.
Description: The Five Points Monument stands an impressive thirty-six feet high in the heart of Downtown Atlanta. This piece honors the historic intersection once home to trolley tracks and an artesian water tower, here at the intersection of five important streets (Peachtree, Edgewood, Decatur, Whitehall (South Peachtree), and Marietta). The sculpture is described as "an asymmetric interpretation of the water tower's traditional girder construction, its structural steel trusses alluding to the trolley tracks now buried below the street." Georgia State University, located in the Five Points area, has taken care of the sculpture and maintains it for public display.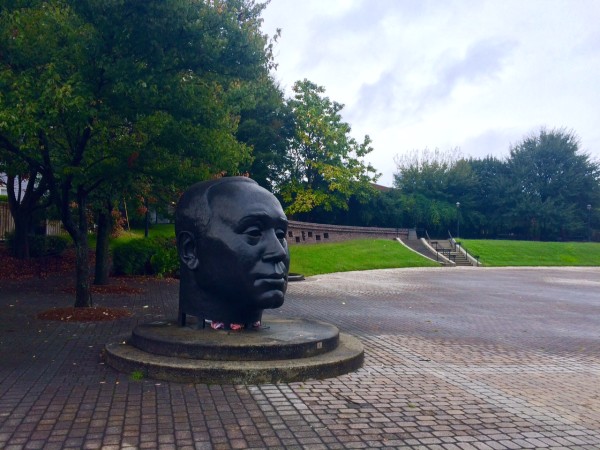 10. Through His Eyes
Location: John Wesley Dobbs Plaza, Auburn Avenue at Fort Street. (Map)
Artist: Ralph Helmick.
Materials: Silicon bronze, exposed aggregate concrete pedestal.
Description: This monument and plaza pays homage to civil rights leader John Wesley Dobbs. Dobbs was known for many accomplishments such as being the Grand Master of the Prince Hall Masonic Lodge of Georgia, a leader in voter registration and political thought, and a famous orator credited for coining the phrase "Sweet Auburn." This "portrait mask" style sculpture is based on the 12th century Nigerian life-sculpture tradition, the bronze sculpture of Mr. Dobbs face includes text and quotes inscribed on the interior, allowing spectators to view Auburn Avenue through his eyes. The artist was selected through CODA's nationwide Call for Artists Initiative and was installed for the 1996 Olympic Games.
The Public Art Program (PAP) focuses on the conservation and maintenance of Atlanta's Public Art Collection and also produces ELEVATE, an annual free Public Art festival featuring local, national and international artists throughout the city. ELEVATE has been named one of the Top 50 Public Art Projects in the Country by Americans for the Arts and has also been nominated for the Livable Cities Award. The PAP also manages City of Atlanta Public Art Audio Tours which focus on educating the residents and guests about Atlanta's Public Art Collection located in the central downtown Atlanta area.
You can get the free City of Atlanta's Public Art app by Tour Buddy for iTunes and Android.
You can also read more about Atlanta Public Art on the Atlanta Public Arts Legacy Fund website.
Disclosure: The Atlanta Convention & Visitors Bureau hosted me for the Social Influencers Travel Summit. During my time in Atlanta, I received special press access to venues, as well as complimentary lodging, food, and activities. I have not received compensation to write this blog post. All opinions are my own. To read my formal disclosure policy, please click here.